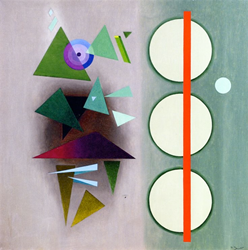 Quality, rarity and value are, of course, preliminary considerations when choosing the absolute finest art to offer our members
New York, NY (PRWEB) March 08, 2016
Exclusive matchmaking and dating service has launched a new service that helps the affluent and successful find quality contemporary art by networking with other prominent members, dealers and other collectors.
"Our members have always been among the financially, socially and culturally elite," a spokesperson for the club said. "After incidentally brokering a few art sales, it made sense for us to help with other parts of their life that they're passionate about, and collecting art was high on that list."
The club has created a private venue that works closely with a select group of artists, dealers and galleries. It offers pieces by both emerging artists and by some of the most highly regarded contemporary artists in a variety of mediums, including painting, sculpture, and photography.
"This service is a way for us to add even more value to our members' lives," the club spokesperson said. "We can now offer some absolutely new and captivating contemporary art available on the market in a venue they know they can trust."
SEI Club, a private, members-only club, has exceedingly high standards for membership. Their matchmaking and dating club, for example, is especially selective. Each applicant goes through an extensive screening process to evaluate their success, attractiveness and personality, and only the most financially successful (and able to afford the service), eligible singles are accepted. In all, fewer than 35 percent of those who apply, gain membership, and they have access to a dedicated team of matchmaking professionals.
People apply for membership to enrich their lives, the spokesperson said, and the club's contemporary art offerings are another avenue of enrichment. While members who wish to participate in SEI Club matchmaking and dating must be single, a member's marital status is not considered when applying to participate in SEI Club's contemporary art services.
"Our mission has always been to make lives (and especially those of our members') more peaceful, meaningful and beautiful. We have done that by matching them with potential romantic partners, and now we're taking that a step further by enhancing their lifestyle and their home with beautiful, meaningful art."
Because of the high caliber of members, the club is able to work with world-renowned and emerging artists, as well as some of the most prestigious galleries in the world. It can offer one-of-a-kind pieces of contemporary art that might not be available on the open market.
"We act for a select group of educated, refined, successful, international clients who give their best in all they do and who in return only wish to receive the best," the spokesperson said. "Ours are clients that many companies would relish in the honor to serve, and so we are able to connect them with pieces of art that would be difficult to acquire elsewhere."
The service is designed for collectors at any level, from those just beginning to others who are highly experienced. Advisers are available to assist with purchases, and the artists represented for sale range from those just emerging to those more established. One reason SEI Club chose to focus on contemporary art was the fact that it deals with current themes and can appreciate in value quickly while always speaking to a contemporary observer.
"Precisely relevant to our current time, these pieces tend to appreciate at a significantly faster rate," the spokesperson said. "When considering contemporary art as an investment, in addition to potential financial appreciation, the greatest gain is how a beautiful painting always evokes a sense of miraculous reward in your heart. The right choice can offer amazing aesthetic rewards in addition to financial ones."
In addition to offering pieces from artists and galleries, the new service also allows members to take advantage of the amazing network the club has created. SEI Club will act as a private broker for members, helping them to either sell a piece on consignment or work with them to acquire a particular piece. Because those transactions are between members and handled by the club, both parties can enter into an arrangement with confidence.
"Our private sales are ideal for members interested in maintaining their privacy and facilitating efficient transactions," the spokesperson said. "We can assist in the facilitation of single item sales or sales of entire collections. By using our exclusive membership base and vast network, we can easily and discreetly sell members' items for the most lucrative possible price." Privacy is something that the club's members value in their matchmaking and dating service as well. SEI Club reviews show that privacy is always preserved for SEI Club members.
The club also works with members to arrange auctions where other members are able to bid, and it also offers select artists and galleries the ability to put exceptional pieces up for auction. The SEIClub.com club's spokesperson said the auctions are the most important and prestigious part of membership.
"Our auctions allow members to directly purchase art from each others' collections as well as perhaps place some of their own valuable contemporary art up for bids. Again, the enormous affluence of members makes for a highly prestigious group of art purchasers and acquaintances."
Whether choosing a piece to go to auction or a range of pieces to be sold directly to members, the club's goal is always the same, the spokesperson said: to offer art that can speak to an audience and produce real feeling.
"Quality, rarity and value are, of course, preliminary considerations when choosing the absolute finest art to offer our members," the spokesperson said. However, the grandest value of the art we carefully choose lies in its ability to precisely portray and capture a glimpse of the truth of this world-existence and reality. When an unaltered truth is shown in all its accuracy and purity, we find that it is always of profound, breathtaking beauty. Any work of art that evokes this sense of awe, inspiration and magic provides its viewer with the inspiration, confidence and deep sense of knowing which allows its possessor to conquer the subsequent tasks, duties and goals of his being. This is the magic and power of true art."
More information is available at http://www.seiclub.com
ABOUT SEI CLUB
SEI Club is a private members club specializing in luxury services globally. You will find reviews from the clubs matchmaking and dating service here: SEI Club Reviews, as well as a review video here: SEI Club Reviews
You will find the SEIClub.com dating blog here as well: SEIClub.com
Additional Dating Articles: SEI Club Reviews Why Happier People Have More Dating Success