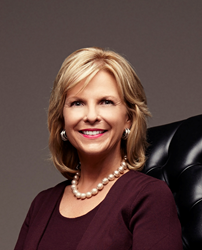 There are only 2 female CEOs at our top 100 banks with over $10 billion in assets. For U.S. corporate boards, women have stalled at 19% representation. The Women in Banking conference is the game-changer for these statistics.
Harrisburg, Pennsylvania (PRWEB) March 07, 2016
Centric Bank President & CEO Patricia (Patti) A. Husic will welcome over 210 women to the Pennsylvania Bankers Association's Spring 2016 Women in Banking Conference today, March 7, at Hershey Lodge & Convention Center, in Hershey, Pennsylvania.
Founder of the association's Women in Banking initiative, Husic is the champion for women reaching high potential careers in banking. In its third year, the annual statewide gathering challenges female bankers to greater leadership, provides mentoring opportunities, and offers professional development as they seek to advance their careers in the ranks of their institutions.
"I'm excited to encourage women at every career level in banking to see themselves in the upper echelons of financial institutions. The content, networking, and career insights shared today will open doors to the C-suite and to the board table for women," says Husic, a 2015 recipient of American Banker's 25 Most Powerful Women in Banking recognition. "There are only 2 female CEOs at our top 100 banks with over $10 billion in assets. For U.S. corporate boards, women have stalled at 19% representation. The Women in Banking conference is the game-changer for these statistics. It's time for us to move the conversation from discovery to action."
Among the event's internationally recognized speakers and panelists, Husic is especially pleased to participate in the CEO panel with Jean Coyle, President and CEO of Penn Community; Charlotte McLaughlin, CEO of PNC Capital Markets; Evelyn Smalls, President and CEO of United Bank of Philadelphia; and Moderator Bonnie McGeer, Executive Editor, American Banker.
"The theme of the panel is leadership, and that will be addressed by these female CEOs in various ways—being in charge as a woman, navigating regulators, attracting a new generation of customers. It all comes down to developing a brand of leadership and executing that brand against specific challenges," says McGeer. "Female bank CEO s are still relatively uncommon. So I'm really looking forward to having a conversation with four of these role models. These women have insight and wisdom to share, and I expect to come away feeling inspired and empowered. And smarter, too!"
"In 26 years at the association, I cannot recall a product, service, or initiative that has generated this degree of energy and enthusiasm among members. Throughout 2015, numerous professionals from member institutions participated in advocacy, mentoring, and sponsorship programs inspired by the PA Bankers Statewide WIB Committee which Patti created and continues to spearhead," says Cindy Wallett, SVP, Member Relations & Professional Development for PA Bankers.
"In a recent meeting, Pennsylvania bank leaders (90% male/80% CEOs) were encouraged by the number of employees in their institutions asking to attend the WIB Conference. These women found tremendous value in collaborating with fellow female professionals, face-to-face. It inspired them personally and professionally," says Wallett.
The Women in Banking Conference is also a recruitment tool for the industry. "We want recent graduates to join our conversation and see how synergistic STEM and finance careers are. The future of banking depends on inspiring the Millennials. I hope young women in high school and college will say, 'I want to run a bank someday!' Last year's conference produced 350 tweets and over 1.5 million online impressions," says Husic. "One day CAN have an immediate and powerful industry impact. I look forward to the day when I'm not the outlier in the industry, and banking is at the top of our young women's career goals."
Join the Pennsylvania Bankers Association Women In Banking Conference conversation on Monday, March 7, 2016, and post, share, and tweet using the hashtag #WomeninBanking.
About Centric Bank
A two-time Best Places to Work and Top 50 Fastest-Growing Companies for four years, Centric Bank is headquartered in south central Pennsylvania with assets of $385 million and remains the leader in organic loan growth in central Pennsylvania. A locally owned, locally loaned community bank, Centric Bank provides highly competitive and pro-growth core financial services to businesses, professionals, individuals, and families. With a Five-Star Bauer Financial Rating, Centric Bank is also ranked as a Top 20 Lender for SBA Loans in the Philadelphia Region.
Founded in February 2007, Pennsylvania-based Centric Bank has financial centers located in Harrisburg, Derry Township, Mechanicsburg, and Camp Hill, and a commercial loan office in suburban Philadelphia. To learn more about Centric Bank, call 717.657.7727 or visit CentricBank.com. Connect with them on Twitter at @CentricBank and Facebook at Centric Bank.
Centric Financial Corporation is traded over the counter (OTC-Pink) with the ticker symbol CFCX.
###