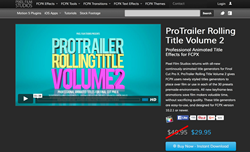 This FCPX Plugin comes with a variety of presets.
Aliso Viejo, CA (PRWEB) March 07, 2016
Pixel Film Studios returns with all-new continuously animated title generators for Final Cut Pro X. ProTrailer Rolling Title Volume 2 gives FCPX users newly styled titles generators to place over film or use in each of the 30 presets premade-environments. All new keyframe-less animations save film makers valuable time, without sacrificing quality. These title generators are easy-to-use, and designed for FCPX version 10.2.1 or newer.
ProTrailer Rolling Title Volume 2 contains 30 all new, cleanly-designed presets for FCPX users to start from. Each preset contains an environment which can be editable, or disbaled for use with photos or videos. Each preset can contain up to six animated words or phrases.
Each preset can contain up to six titles or phrases for users to edit and customize. Each title animates inward and outward, and can be sequenced by entire words, or individual characters. Visual edit modes help users type in the text they want, simply and easily.
Each ProTrailer Rolling Title Volume 2 preset contains editable environments which can also be disabled depending on the users choice. Shadows and reflections can be modified, and lights can be adjusted. Each preset comes with overlay controls for flare options, and bokeh effects.
ProTrailer Rolling Title Volume 2 is a title generator pack designed for FCPX (Version 10.2.1 or newer), which takes full advantage of the 3D text tools. Users can stylize each title to their own liking, and select professional animations without any keyframing. Each generator is easy to use, and can be applied in seconds.
Established in 2006, Aliso Viejo, California-based Pixel Film Studios is an innovative developer of visual effects tools for the post-production and broadcast community. Their products are integrated with popular non-linear editing and compositing products from Apple FCPX. Apple, the Apple logo, Mac OS X, and Macintosh are registered trademarks of Apple Inc. in the U.S. and/or other countries. All other trademarks and trade names are the property of their respective owners.