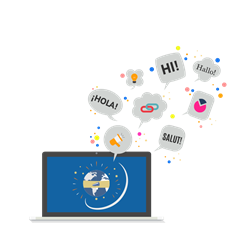 ... there is a greater rate of engagement and sharing when contests and promotions are offered to participants in their native language
Barcelona, Spain; Toronto, Canada (PRWEB) March 08, 2016
As digital marketers prioritize audience and follower engagement via social media channels, today, Easypromos, a global leader in digital promotions, announced the launch of its new multi-language platform, enabling its Facebook contests, sweepstakes, quizzes and more to be tailored to any one of thirty languages across every social media channel and mobile device. The new platform is in answer to the increasing demand by digital marketers for tools to engage with audiences in multiple languages, particularly important for companies and brands within the travel and leisure industry, as well as multi-national corporations and celebrities and figureheads with a global following.
"We have heard from our clients that there is a greater rate of engagement and sharing when contests and promotions are offered to participants in their native language," said Carles Bonfill, co-founder and CEO of Easypromos. "Our multi-language platform fills a major void in the industry, as it not only streamlines the process of holding the same promotion across multiple languages, but synchs the responses and results into a single database, simplifying communication with participants, tracking responses, management of participation lists, as well as selecting winners."
Historically, administrators would have to create separate promotions for each language as well as separate corresponding communication, and separate response databases, making the manual process time consuming and burdensome. Now, administrators will not only be able to tailor the entire interface of the promotion according to the preferred language of multiple audiences, but match corresponding communications such as registration, the promotion landing page, social media sharing and auto-email responses, which will automatically adjusted according to the participant's language set on their browser.
Further, for each language, administrators will have access to a complete editor allowing translation of all texts and images for the promotion. The editor shows the texts configured in the primary language first, but administrators can navigate between different screens, view pending translations and review all texts before publishing.
"Personalization is paramount to audience engagement and lead conversion," continued Mr. Bonfill. "As the global leader in social media promotions, we are uniquely positioned to offer a much needed multi-language solution. As more and more companies, agencies and individuals embrace social media promotions such as Facebook contests and giveaways as a cornerstone for digital promotions, we are offering a leg up to our clients with a solution that is reliable, secure and fully scalable to maximize engagement and brand exposure."
About Easypromos:
Easypromos is a global leader in social media promotions offering a self-service, easy-to-use platform to create and manage digital campaigns seamlessly across any social media network or device. Launched in 2010, Easypromos has powered digital campaigns supporting contests, sweepstakes, quizzes, surveys, and more through simple, customizable solutions that are easily shareable for more than 250,000 promotions worldwide. Clients span 50 countries, with promotions running in 24 languages.
Twitter at @Easypromosapp
Facebook.com/Easypromos
Linkedin.com/Company/Easypromos
Members of the media can contact Emily Porro at media@easypromosapp.com.