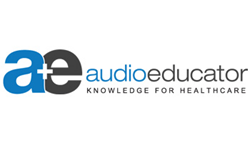 Seeking palliative care isn't about giving up hope or hastening death, but rather a way to get the most appropriate care in the last phase of life.
Durham, NC (PRWEB) March 08, 2016
AudioEducator (AE) is the country's top training providers for healthcare professionals in medical coding, billing and compliance. In upcoming months, AudioEducator has lined up some informative training session for the hospice and home health professionals on various hot-topics. Every conference is designed to give complete compliance know-how and practical, easy-to-apply advice.
On Tuesday, March 15, 2016, AE will host a live audio conference titled "Palliative Care: Considerations in Caring for Dying Patients Before Hospice Eligibility" with expert Robert Markette, an attorney who practices health law and litigation, to look at compliance issues that can arise when providing palliative care services.
For seriously ill or dying patients, Palliative care programs offers a more dignified and comfortable alternative to spending the final months in the environment of a hospital. These programs serve more than 1 million patients and their families each year. Currently, there is an increase in hospitals partnering with hospices to offer patients palliative care. From home health agencies, physician Part B groups to nursing homes and managed care organization, there is a growing area of interest for palliative care.
Evidence shows that palliative care programs can reduce hospitalizations and ER utilization, both key metrics for providers in the world of value-based purchasing. But, these patients do not always fit into a category for Medicare or Medicaid purposes, which presents a number of challenges to providers looking to add palliative care to their mix.
In this 60-minute session, Robert will look at issues related to establishing a palliative care program including payer sources, compliance concerns and licensure matters, as well as the use of physician services. He will discuss potential payer sources including Medicare, Medicaid and third parties. Learn why Medicare may not pay for this service, and the risks involved in providing this care for free. Additionally, he will answer some pertinent questions, such as— how to market a palliative care program; what involvement physicians have in this program; how it can reduce hospitalizations and ER utilization.
For more information, http://www.audioeducator.com/home-health/palliative-care-dying-patient-hospice-03-15-2016.html
About AudioEducator
AudioEducator is the country's leading source of knowledge and training for professionals in medical coding, billing and compliance. It conducts conferences and webinars with nationally renowned experts, consultants and legal experts who provide a fresh perspective on healthcare issues and trends. AudioEducator offers important updates, regulatory knowledge and compliance information on the latest coding and billing in 24+ medical specialties. It has provided thousands of healthcare professionals the opportunity to get answers to their most complex questions directly from experts.
To know more visit: http://www.Audioeducator.com/