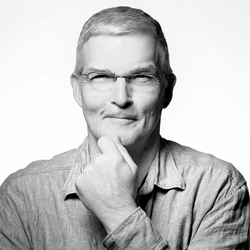 "Dave Moser's time at KelbyOne showed that he can engineer amazing partnerships between companies."
Falls Church, VA (PRWEB) March 09, 2016
ThinkTAP, a startup that provides creative services to businesses that want to reach visual artists, proudly announces it has named Dave Moser as COO. Moser will be responsible for the daily operation of the company and will have input in all areas of the business including content, business development, staffing, sales and more.
"Dave Moser's time at KelbyOne showed that he can engineer amazing partnerships between companies, and he understands our audience very well. His skill set fits our mission perfectly. I have no doubt that he can unite creative artists, aspirational learners, and top manufacturers in a community that educates and inspires its members though the power of creativity," said CEO and ThinkTAP founder, Richard Harrington.
Moser has deep relationships with everyone from manufacturers and software companies that operate in the photography and video space to industry luminaries and influencers who can draw the attention of creative artists worldwide.
"In the last 14+ years I've developed a deep respect and understanding for both the working professionals in the visual media space. Whether they shooters or trainers or both I recognize the hard work they put in day in and day out. I also admire the various manufacturers and distribution channels that serve that audience. Putting these deals together has become my passion. My greatest satisfaction comes when it brings the best of the best to our creative community," said Moser.
Moser's tenure starts immediately and he will be in Las Vegas this week for the Wedding Portrait Photographers International convention representing ThinkTAP.
For more information on ThinkTAP's contact info(at)thinktap(dot)com.
ABOUT RICHARD HARRINGTON
Richard Harrington is the CEO of ThinkTAP and the owner and publisher of Photofocus.com, one of the most widely-visited photography/video education sites on the Internet. He is also CEO of RHEDPixel, a video production company located in Washington, D.C.
ABOUT DAVE MOSER
Dave Moser is an ex-US Army Major and instructor at the US Military Academy. He has worked with MacCentral.com, Jonathan's Computer, Computer Emporium and most recently as COO of Kelby One. Dave is an avid equestrian photographer who lives in Florida.