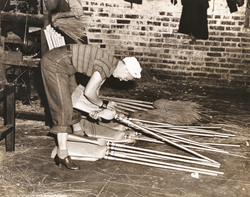 "We are proud to continue Libman's heritage and at the same time continue the American tradition of providing opportunities and quality products." --Andrew Libman
Chicago, Ill. (PRWEB) March 07, 2016
This year marks a milestone for The Libman Company as it celebrates its 120th Anniversary as an American manufacturer of household and commercial cleaning products. The company is kicking off the celebration with customers at its booth at the 2016 International Housewares Show with a special birthday cake and cupcakes.
"This is an exciting time for us," said Andrew Libman, President. "We believe Libman is the embodiment of the American dream. Hard-working immigrants, like my great-grandfather and countless others persevered and truly shaped our country into what it is today. We are proud to continue Libman's heritage and at the same time continue the American tradition of providing opportunities and quality products," Libman added. Andrew is joined by his siblings Aaron and Rachel as proud leaders of The Libman Company, along with other owners Jared, Ilana, and Rebecca Libman.
The Libman Company started in 1896 with one mission: to make the finest, most durable wire-wound corn brooms. The family left Lithuania for the United States in the 1890s. They landed in Chicago and started life in the New World by peddling sundries from a pushcart, selling everything from brooms to clothes-pins. The old-fashioned corn broom was always a top seller. Seeing a need and an opportunity, the company opened a corn broom factory on Kinzie Street in Chicago, the commercial heart of the Midwestern broom corn market.
Clarence, Ben, and Sam Libman joined their father, William, in the broom-making business, adding a new generation of ideas and energy. In 1932, the Libman moved operations out of the big city and into Tuscola, Ill., a town in the heart of "broom corn country." Located 180 miles south of Chicago, Tuscola and the surrounding towns produced much of the 374,000 acres of broom corn harvested each year in the United States. Being close to the crop allowed The Libman Company to keep an eye on the harvest, streamline operations and increase production.
Today, Libman's 1.1 million square foot facility still located in Central Illinois with the fourth generation of Libmans who have come on board. They are as committed as their predecessors to providing high-quality, American-made cleaning products including mops, brushes, cleaning tools, and of course, brooms.
The Housewares Show birthday cake is only the beginning of the year-long celebration. Andrew Libman said that throughout 2016, the company will commemorate Libman's 120th year in business in various ways. The company will produce special packaging with an anniversary logo on its top-selling Wonder® Mop and Precision® Angle Broom products. Libman will offer a fall retail program with in-store displays that communicate Libman's special anniversary and offer savings on Libman products.
A special online promotion aimed at consumers will be communicated on Libman's website, Facebook, Twitter, and Pinterest channels and will offer 120 consumers a chance to win $120 worth of Libman cleaning products. Additionally, a Libman vehicle will travel to store openings and other events to hand out coupons and Libman swag.
About The Libman Company
The Libman Company is a family-owned company that has been making quality cleaning tools since 1896. The company manufactures products from brooms and mops to more specialized tools for kitchen and bathroom cleaning and industrial uses. Libman proudly manufactures most of their products in the United States, including the company's well-known Wonder® Mop. For more information about the Libman Company, please visit http://www.libman.com.