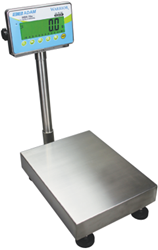 AEAdam offers a wide selection of industrial weighing equipment for materials handling.
Stuttgart, Germany (PRWEB) March 08, 2016
AEAdam GmbH, a subsidiary of world-class balance and scale manufacturer Adam Equipment, will present a selection of industrial weighing products for warehousing and materials testing during LogiMAT 2016, 8-10 March at the New Stuttgart Trade Fair Centre in Germany.
LogiMAT is an international trade fair for distribution, materials handling and Information flow, and is the biggest annual intralogistics exhibition in Europe. During LogiMAT, AEAdam will join other manufacturers and distributors from around the world to display innovative products, solutions and systems for procurement, warehouse, production, and distribution logistics. More than 1,200 exhibitors from 32 countries will participate in the event, which occupies 95,000 square meters of exhibit space.
Visit AEAdam during LogiMAT at Hall 6, Stand 6C30, where you can meet company representatives and view these Adam Equipment scales and analytical and precision balances:
Nimbus analytical and precision balances are well-suited to perform materials testing tasks, including asphalt and concrete unit weight tests and density determination. Nimbus offers below-balance weighing to quickly determine density of samples, calculating specific gravity within the balance.
With washdown capability and an IP66-rated base and indicator, the Warrior meets the demands of shipping, receiving and materials testing applications. Its grade 304 stainless steel pan allows speedy and thorough cleaning. Checkweighing is fast and easy, as LED indicators show if samples are over, under or within preset limits.
PTS pallet truck scales offer an easy and cost-efficient way to manage, move and weigh heavy industrial loads. The PTS boasts reinforced steel pallet forks, a zero-radius pivoting handle for exceptional maneuverability in tight spots and an IP66 rated indicator for protection against water and dust.
Reliable performance and durable construction make the CBK bench checkweighing scales excellent for industrial applications. Checkweighing is simplified with the CBK, as LED indicators show if samples are under, over or within preset limits.
Lightweight and portable, the LBK scale delivers unbeatable value for warehouse weighing or materials testing at construction sites. Cleaning is easy with the removable grade 304 stainless steel pan and sealed keypad. With a built-in rechargeable battery, LBK can operate in the field or remote locations.
Designed to weigh pallets and bulky objects, AELP pallet beams are portable and easy to use, with built-in wheels and handles. The AELP comes with a five-meter-long shielded cable, allowing the indicator and beams to be positioned as needed.
GBC bench counting scales have a numeric keypad for unit weight and sample entry. They feature a grade 304 stainless steel top pan and pillar-mounted ABS plastic indicator. A large backlit display shows unit weight, total weight and number of pieces. Power is supplied by an AC adapter or the built-in, rechargeable battery.
Adam's LHS and SHS crane scales safely measure suspended loads in warehouses, on loading docks or at construction sites. The scales provide a rotating chrome-plated steel hook, safety catch, oversized swivel shackle and bolt, internal rechargeable battery, and remote control that allows operation from a distance.
Highland portable precision balances offer a rechargeable battery for portability to construction sites. A removable draft shield and a weigh-below hook for density and specific gravity measurements are standard on the balance.
About AEdam
Located in Felde, Germany, AE Adam GmbH is an independent company founded in 2014 to serve Adam Equipment customers and distributors in Europe. The company provides reliable service, sales technical assistance, and repairs, along with innovative weighing products that contain the right combination of value, functionality, and state-of-the-art technology. For more information, visit http://www.aeadam.de.
About Adam Equipment
For more than 40 years, Adam Equipment has designed and manufactured precision balances and scales for professionals worldwide in the laboratory, medical, education, industrial, food, animal/veterinary and jewellery markets. Adam is committed to offering an extensive selection of weighing equipment with best-in-class value. Headquartered in the United Kingdom, the company has strategically established offices in the United States, South Africa, Australia, China and Germany to provide product support and speedy delivery to distributors. For more information about the company and its products, go to http://www.adamequipment.com.