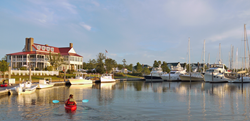 2016 Bliss Award Winner Best Boating Community of the Year
New Bern, North Carolina (PRWEB) March 08, 2016
In Real Estate Scorecard's quest to find the finest boating community, they keep coming back to River Dunes year after year. Situated close by Oriental, one of the best coastal towns in North Carolina, the charming coastal neighborhoods within River Dunes are perfectly positioned on the protected Inner Banks. The Pamlico Sound is the second largest estuary along the east coast and stretches 30 nautical miles to Ocracoke Island on the Outer Banks.
The community's centerpiece, Grace Harbor Marina, provides a safe harbor for sailboats, powerboats and yachts up to 150 feet in length. Staying true to the harbor's name, River Dunes has been gracefully welcoming transient boaters traveling up and down the Intracoastal Waterway for over a decade. A visit to the marina has on occasion been the method by which current River Dunes property owners initially found the award winning master planned community on the Pamlico Sound.
Real Estate Scorecard believes River Dunes is one of the ideal places to live for any type of boating. In addition to the high quality marina, the waterfront community has superb amenities overlooking the harbor that include a stately Harbor Club and restaurant, a resort-style swimming facility with two Jacuzzis and two fireplaces, guest cottages and a small, adorable chapel. Recently opened across the street from the Harbor Club is Grace Harbor Provision Company that will offer guests, residents and boaters supplies and hospitality.
New amenities are under construction this year in the Harbor Village, including a retail complex that will feature a cafe and retail space on the first floor, a wellness/spa facility on the second floor and four guest suites on the third floor. Two Har-Tru tennis courts and a performing arts amphitheater are just down the street. The convenience of living in close proximity to the amenities is a part of life with new model homes in the Harbor Village begin in the high $400k's.
River Dunes has accumulated a long list of impressive awards:
2015 Best Large Marina by Marinalife
2015 Top 10 All-Around Best Marinas. com
2015-13 Bliss Award Best Boating Community of the Year
2014 Top 25 Marinas in North America
Consistently given a Five Star Rating on Active Captain. com
Features of Grace Harbor Marina include:
400-slip safe harbor, with quick access to Pamlico Sound and the Intracoastal Waterway
8 ft MLW depth
Transient vessels to 150 ft.
500 ft fuel dock with high-speed diesel and gas
Valvtect Marine Fuel
30-50-100-200 amp service
State-of-the-art floating docks
Well-protected in all weather conditions
Private steam showers and laundry
Onshore Accommodations in Guest Cottages
Guest Boater Access to Club Amenities
Folks can find River Dunes off the Intracoastal Waterway at Mile Marker 173. Beyond the architecture, Real Estate Scorecard is deeply impressed with the camaraderie among the property owners and their outreach efforts in the local community. For a boating community of its size, it's hard to find anywhere else like it. Their compassionate outreach efforts of the community are like a mirror reflecting the community's generosity. Real Estate Scorecard is not sure the word 'no' is even in their vocabulary. The community is always willing to help. Over the years, they have actively been involved as a host or sponsor in fund raising efforts for the Leukemia Cup Regatta, Bike MS, Pamlico Girls on the Run, Oriental Dragon Boat Races, and more.
One property owner described River Dunes as "the management team has worked tirelessly to successfully secure and enhance the development's financial backing. There is a strong sense of community and we feel welcomed to it. These are genuinely good people...and we are proud to call them neighbors."
Another said "it's like Disneyland, beautiful and well maintained, proximity to the best water on the east coast with small southern town atmosphere. Friendly and accessible. Right on the ICW."
There are dozens of property owner reviews to read on Real Estate Scorecard's website that reveal the joy property owners experience every day living at River Dunes.
The coastal vernacular of the architecture at River Dunes has wonderful curb appeal. Many of the homes have wide front porches, white picket fences and cottage-style windows. The attention to detail in homes and amenities create a unique setting for enjoying life on the coast of North Carolina. Here you'll find wonderful walking trails and open spaces. If you love biking, you'll love riding around River Dunes found in one of the best coastal towns in North Carolina.
If folks are searching for ideal places to live and boat, Real Estate Scorecard is pretty certain folks won't find anywhere better. River Dunes holds the crown for another year as the 2016 Bliss Award winner for Best Boating Community of the Year.
To schedule a visit through their attractive Discovery Package, contact River Dunes directly at 800.975.9565.
About Real Estate Scorecard:
Real Estate Scorecard writes unbiased real estate reviews providing in-depth information about popular gated communities in Florida, Georgia, the Carolinas, Tennessee and Central America, all in an effort to help people discover where to retire in the South.
Website: http://realestatescorecard.com