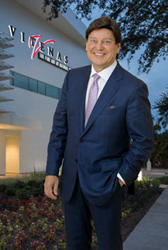 Houston, TX (PRWEB) March 07, 2016
This February, Paul Vitenas, M.D., F.A.C.S., was honored the RealSelf 100 Award. He is proud to have made the list of the most influential doctors by the RealSelf community for the third year in a row. Only the top 1% of all 13,000 participating providers make this coveted, annual roster.
Founded in 2006, RealSelf has become the most trusted online source of cosmetic and plastic surgery information. The site features a broad selection of photos, reviews and doctor Q&As. A variety of specialists, from an array of backgrounds, work together on RealSelf, providing feedback on elective aesthetic treatments, plastic surgery and cosmetic dentistry. In 2015, RealSelf had more than 77 million unique views.
Every year, RealSelf releases a list of the 100 most involved, influential doctors with a social media presence on their site. To rank in this elite group, a surgeon must devote an extensive amount of time responding to consumer questions and comments. Collectively, this year's top providers spent more than 10,000 hours engaging with the public on RealSelf.
"When we started RealSelf, many doctors questioned why they should 'give away' their expertise 'for free' on the web," says Tom Seery, RealSelf founder and CEO. "Now, nine years later — and with over one million doctor answers on our platform — we are proud of the standard this select group has set. They're leading the way by empowering millions of consumers to gain access to the information they need to make smart and confident health and beauty decisions."
Dr. Vitenas takes the responsibility of helping patients achieve safe and satisfying results seriously. Consecutively named as part of the RealSelf 100, he is considered an expert contributor on the website. To date, Dr. Vitenas has posted over 1,000 answers to patient questions. He maintains a five star rating, with more than 82 patient reviews.
Serving the Houston area for more than 25 years, Dr. Vitenas has performed thousands of surgical procedures. His innovative techniques include breast augmentation, body lift, the Mommy Makeover, and Brazilian Butt Lift. Dr. Vitenas' own medi-spa, Mirror Mirror Beauty Boutique, brings a cutting-edge selection of noninvasive techniques to the practice.
Vitenas Cosmetic Surgery is located close to many of Houston's finest restaurants and luxurious accommodations. Two international airports are only minutes away. Prospective patients are encouraged to schedule a complimentary
consultation with Dr. Vitenas by calling 281.484.0088. Those coming from outside of the immediate area may choose to arrange a virtual consultation. Speak with a patient coordinator for more details.
The full list of RealSelf 100 Award winners can be found at http://www.realself.com/RS100.
Contact:
Vitenas Cosmetic Surgery
4208 Richmond Avenue
Houston, Texas 77027
281.484.0088
http://www.drvitenas.com