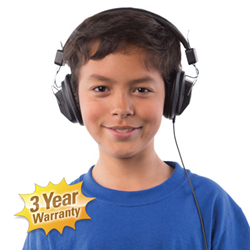 San Fernando, Calif. (PRWEB) March 07, 2016
Califone announced today a three-year warranty on its most popular classroom-specific headphones and headsets.
"The announcement comes as the company is celebrating its 70th anniversary, and there's no better way to reinforce that same commitment to educators and exhibit confidence in the durability of Califone products," shared the company's Tim Ridgway. "Backing our headphones and headsets with this added level of protection helps schools stretch their dollars so they won't have to worry about replacements costs if something breaks within the first three years of purchase," he continued.
Unlike most off-the-shelf consumer brands, all Califone products feature a warranty that specifically covers use in schools, unlike consumer brands. School use is defined as a commercial, rather than consumer application, voiding the warranties on most consumer-oriented headphones.
The three-year warranty is now standard for the following headphones and headsets purchased beginning March 7, 2016. It applies to its child-sized headphones and headsets (including the just-launched Kids headphone and award-winning Listening First line), the Deluxe headphones and headsets, the 3068 series (including the just-launched headset versions), Explorer headphones, Odyssey headphones, Discovery headsets, Titanium headphones and headsets (including Guaranteed for Life cords), 610 series headphones, Hush Buddy ear muffs, 4100 headsets and the SA740 headphone.
Technical innovations have contributed to expanding the lifespan of Califone headphones while supporting new ways of learning. Recent industry firsts include washable headphones, Guaranteed for Life™ cords, using more rugged materials such as ABS plastic for safety and protective slotted baffles to cover the inner speakers. The use of mobile devices paved the way for the company's launch of the first headsets with a USB plug, the first headsets with its To Go Plug for digital learning, and education's first headsets for game-based learning, including for augmented reality and virtual reality applications. The company is also celebrating the tenth anniversary of its Listening First headphones, the first to be fitted for the youngest students. Califone has partnered with the American Speech-Language-Hearing Association since 2007 to educate children, parents and teachers about the responsible use of personal audio technologies.
For more information on Califone product warranties, visit http://www.califone.com/warranty.php.
About Califone
Califone was founded in 1947 and continues to be a leader in the design, development and manufacturing of audiovisual and supplemental curriculum products for use in education. The company's products enable educators to incorporate rich audiovisual resources into lessons that help students build speaking and listening skills, critical to the English Language Arts portion of the Common Core State Standards. Califone offers a complete line of audio solutions, wireless systems and multimedia products for small, medium and large presentation needs, and serves millions of educators and students in the PreK through higher education school environments.
# # #