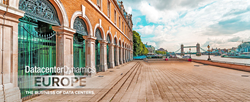 London, United Kingdom (PRWEB UK) 8 March 2016
DatacenterDynamics has announced its Europe event is to take place on November 1st - 2nd in London's Old Billingsgate Market. Themed "Zettastructure," this years' conference programme will address the stresses and challenges upon data centre management created by the disaggregation of infrastructure as we enter the zettabyte era.
George Rockett, CEO, DatacenterDynamics said: "In relocating this year's event to the heart of London City, we want to reconnect with an established reputation for thought leadership and knowledge sharing. As a leading colocation destination, London is not only a global leader for data centre engineering and operational know-how, it is also one of the first cities to feel the impact of Zettabyte requirements. It's data centre community therefore have first-hand experiences to share and discuss."
Situated on the bank of the River Thames at London Bridge, Old Billingsgate creates the opportunity for the event activities to continue throughout the two days of the conference. The venue will play to host to both the conference halls and a 40,000 square feet expo including the most innovative technology solutions providers in the digital infrastructure market.
"Datacenterdynamics has always put content and networking first and second. In these respects, the event has never been well suited to a purely exposition venue. Old Billingsgate is unique in that it provides a convenient gathering point for one of the most important data centre communities, set right in the heart of one of the world's most desirable cities. This gives both our delegates and sponsors a huge range of options in terms of the way they use the event which simply aren't available at an out-of-town location," continued Rockett.
Codename Zettastructure
Big Data and the Internet of Everything (IOE) has catapulted digital infrastructure into the Zettabyte era, and creating the need for rapid transformation of data centre facilities. Against this backdrop, DatacenterDynamics Europe 2016 has been themed "Building the Zettastructure" - the collective name given to the physical layer of hardware, facilities and networks that together forms the foundation of the digital economy.
New Venue, New Look Conference Programme
DatacenterDynamics Europe 2016 new look conference programme includes morning plenaries followed by pre-lunch seminars, whilst the afternoons are given over to an entirely new format for "big discussions" of issues and technology developments affecting the industry.
"We've added two new tracks to the conference that open up the conversation to the compute and network hardware layer to explore the 'borderlands' between physical infrastructure and SDDC," said George Rockett. "Virtualisation has given way to the potential of data center disaggregation which will see new service providers entering the space. DatacenterDynamics Europe 2016 will curate content that helps our audience be more collaborative and understand the opportunities."
DatacenterDynamics Europe 2016 takes place at Old Billingsgate Market, 1 Old Billingsgate Walk, London EC3R 6DX on November 1st & 2nd, 2016. For further information about speaker opportunities, sponsorship and exhibiting, or to register as a conference delegate, please contact Merima Dzanic, Senior Conference Producer, DCD Europe by emailing merima.dzanic(at)datacenterdynamics(dot)com or by calling +44 (0) 207 426 8017.
==ends==
About DatacenterDynamics
DatacenterDynamics is a brand of DCD Group, a global B2B media and publishing company that develops products to help senior professionals in the world's most ICT dependent organizations make risk-based data centre infrastructure and capacity decisions.
DatacenterDynamics' portfolio of live events, online and print publishing, business intelligence and professional development brands are centred on the complexities of technology convergence. Operating in 42 different countries, the company has developed a unique global knowledge and networking platform, which is trusted by over 30,000 ICT, engineering and technology professionals.
Press contact:
Merima Dzanic
Senior Conference Producer
merima.dzanic(at)datacenterdynamics(dot)com
+44 (0) 207 426 8017.