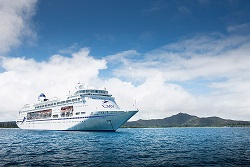 We are really pleased to welcome this fine ship to our fleet
Fort Lauderdale, FL (PRWEB) March 09, 2016
Under CMV's explorer theme, Columbus will be dedicated to cruising in the Northern Europe market, homeporting year round from London Tilbury and providing a more traditional destination focused cruise experience.
At 63,786grt and with an impressive space ratio, she will carry about 1400 passengers accommodated in 775 cabins (including 150 singles) and will become the proud new flagship of the CMV ocean fleet operating alongside Magellan (1300pax), Marco Polo (800pax), Astor (600pax) and Astoria (550pax).
Columbus will also be targeted to the adult only (16yrs plus) market although in summer 2017 will be operating two selected August summer holiday sailings for all age groups. The ship was originally launched in 1989 and christened by Hollywood actress Audrey Hepburn on 4th March.
Christian Verhounig, CEO and Chairman of CMV explained, "The successful introduction of Magellan in 2015 has encouraged our Group to accelerate their mid-term growth plans and the addition of Columbus to the fleet in 2017 is another important milestone in achieving our longer term growth objectives."
He added, "The strategic development of the Group's presence in the UK and wider international markets will increase our overall capacity to 120,000 passengers in 2017.
"We are proud of the CMV brand's growing international recognition and remain confident in continuing to successfully build our business as a strong value based 'independent' alternative and deliver profitable returns for both our trading partners and stakeholders."
John Dennis, Vice President Sales and Marketing CMVUSA commented, "We are really pleased to welcome this fine ship to our fleet which we believe will be very well suited to our growing North American passenger source market who appreciate and value the many benefits of cruising on smaller to mid-sized more traditional vessels of this type.
"The introduction of Columbus and her past association and popularity within the cruise market, will increase 2017 bed night capacity by over 25% to 95,000 passengers. Having already sold over 85% of capacity for 2016 and with 17,000 people turning 50 every week in the US and Canada, we remain confident that Columbus will satisfy the growing demand for our product."
The 2017 summer program will go live ON SALE via the CMVUSA website on Thursday 31st March 2016.
Special introductory fares with enticing early booking deals to reward early bookers will be on offer plus a 25% single supplement deal with 150 dedicated single cabins being made available for the growing solos market. Attractive group deals offering further savings, free places and other benefits, will be available.
For all Press Enquiries please contact:
John Dennis, VP Sales and Marketing, Cruise & Maritime Voyages USA
jdennis(at)cmvusa(dot)com
954 616 5343 or 855 206 4897