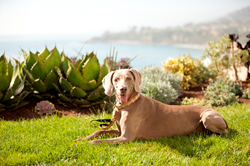 Dana Point, California (PRWEB) March 09, 2016
Bark your calendar to join other canines and their companions at The Ritz-Carlton, Laguna Niguel to sniff and schmooze at Yappy Hour. Haute hounds enjoy lapping up libations, thanks to water in his favorite flavor – bacon, chicken, beef or vegan – while human guests relax with a glass of Mutt Lynch Unleashed Chardonnay, Merlot Over and Play Dead, or Chateau d'Og Cabernet Sauvignon. Cocktails, beer and a selection of barbecue items are available for purchase. As part of the resort's Community Footprints program, proceeds from Yappy Hour will benefit the Wounded Veterans Initiative of Canine Companions for Independence.
Yappy Hour 2016
Thursday, May 19, 2016 / 5 to 8 p.m.
Thursday, June 16, 2016 / 5 to 8 p.m.
Thursday, July 21, 2016 / 5 to 8 p.m.
Thursday, August 18, 2016 / 5 to 8 p.m.
Thursday, September 15, 2016 / 5 to 8 p.m.
Yappy Howl-O-Ween
Thursday, October 27, 2016
Held from 4 to 7 p.m., Yappy Howl-O-Ween is the chance for pups to strut their stuff in their favorite costume. A panel of judges will determine which canine will take home the prize in the costume categories of Dynamic Duo, Most Creative, Cute and Cuddly and, of course, Best in Show. First place prize in each category is a hand-painted dog bowl by Debby Carman of Faux Paws Productions. Donation to enter the costume contest is $10 per canine per category.
Yappy Howl-iday Celebration
Sunday, December 4, 2016
Santa Claus makes a special appearance at the Yappy Howl-iday Celebration. Held from 11 a.m. to 2 p.m., this festive gathering provides Fido with the opportunity to be photographed with the "Big Dog" himself – Santa Claus. In keeping with the resort's Season of Giving, guests are asked to bring unopened canned or dry dog food, treats or dog toys to be donated to local animals in need.
# # #
About the Wounded Veterans Initiative of Canine Companions for Independence
Canine Companions for Independence is the largest non-profit provider of assistance dogs and is recognized worldwide for the excellence of its dogs and the quality and longevity of the matches it makes between dogs and people. Canine Companions growth and success since 1975 has stemmed from working with amazing breeder caretakers, puppy raisers, instructors, volunteers, staff, and, of course, their graduate teams. Canine Companions has been enhancing the lives of people with disabilities with its four types of assistance dogs that master more than 40 specialized commands: service dogs, skilled companions, hearing dogs and facility dogs. Canine Companions has trained and placed more than 4,750 assistance dogs with program graduates, including more than 1,200 dogs with children and 130 dogs with wounded military veterans. With the increase in wounded veterans who could benefit from an assistance dog, Canine Companions helps veterans making a new start in putting their life back together from an injury with an assistance dog who can provide the help they need to regain independence. To date, Canine Companions has placed 139 assistance dogs with veterans nationally and 10 PTSD study placements. Currently there are 104 active teams that include 40 active teams from the Southwest Region.
About The Ritz-Carlton, Laguna Niguel
The Ritz-Carlton, Laguna Niguel sits perched atop a seaside bluff with panoramic views of the Pacific Ocean and more than three miles of sandy beach. The resort continues to redefine the guest experience by creating distinctive, unforgettable, and #EpicMemories that are presented against an extraordinary backdrop. A re-imagined surfside retreat that awakens guests' senses with its unique ocean-front setting and remarkable service heritage, the resort is the premiere destination for travelers who desire a playful approach to true Southern California luxury. The resort offers many extraordinary luxury experiences including Raya, 180blũ, The Market Place, enoSTEAK, Bar Raya, The Spa and the Eco-Adventure Center. For more information or reservations call 800-241-3333, the hotel directly at 949-240-2000, a travel professional or visit http://www.ritzcarlton.com/LagunaNiguel.