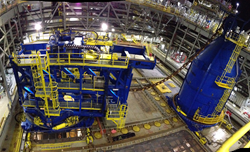 Highly maneuverable technology enables incident-free, on-time deployment
Houma, Louisiana (PRWEB) March 09, 2016
Oil States - Houma and Bardex Corporation are pleased to announce the successful installation of two Steel Catenary Risers (SCRs) linking ExxonMobil's Julia Field to the Chevron USA-operated Walker Ridge Regional Host floating production unit (FPU) in the deep-water Gulf of Mexico. Previously, the system was used to pull in and land six SCRs for first stage development of the Jack and St. Malo fields in the deep-water Walker Ridge Area of the GOM.
The design and manufacture of the SCR Pull In System was a collaborative effort between Oil States and Bardex. The system is designed to store 600 meters of 147 mm chain and has a safe working load of 1,135 tonnes. Oil States manufactured the chain windlass and chain locker assembly, the main work wire winch, and the auxiliary winches. Bardex provided a specialized gimbal-mounted linear Chain Jack designed to pull 1,135 tonnes which was integrated with its own chain windlass for chain handling.
Multiple Bardex gripper jacks were used to position the SCR module, Work Wire Winch module, and Chain Locker module around the moon pool. The system can translate 360 degrees around the moon pool and rotate up to 360 degrees under load. This maneuverability permits precise installation of the SCR without risk of damage. Oil states and Bardex fabricated the main structural assemblies associated with their respective equipment. The complete system was powered by a Bardex-designed HPU/diesel generator and controlled from automated PLC controls positioned in a central control cab.
The system was fully functional and dynamically load tested at the Oil States - Houma test facility in Louisiana prior to installation on the FPU.
The SCR pull-in work was completed safely and without incident.
About Bardex Corporation
California-based Bardex Corporation is a global technology leader in the design, manufacture, and installation of heavy load handling, positioning, mooring, and tensioning systems. Since 1963, Bardex has been providing the offshore oil & gas and shipyard industries with technologically advanced systems.
About Oil States - Houma
Oil States - Houma is a global provider of offshore equipment and services in the oil and gas industry. Our extensive experience can offer solutions to all of your mooring system, marine crane, anchor handling equipment, and riser pull-in needs. Contact an Oil States representative today to see how our world-class engineering can benefit you.
Oil States - Houma
Manufacturing, Engineering, Sales & Service
1180 Mulberry Road | Houma, Louisiana 70363 USA
Tel 985 868 0630