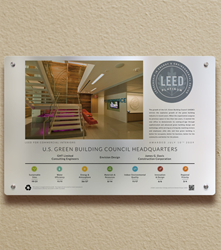 Building a plaque on buildingplaques.com is fast and easy because buildingplaques.com is integrated with USGBC's LEED project database.
Cincinnati, Ohio (PRWEB) March 10, 2016
Since its introduction in 1998, the Leadership in Energy and Environmental Design (LEED®) certification has been awarded to more than 72,000 projects worldwide, translating in large part to an estimated $248 billion green building industry in 2016. With green building expected to account for more than half of U.S. construction investment in 2016, architects, builders and owners want to highlight the design elements of their buildings that earn LEED certification.
In November of 2013, leedplaques.com introduced a new, customizable plaque designed to better communicate the design elements of a project that earn LEED certification. Now leedplaques.com is buildingplaques.com; with a new agreement with the USGBC to better service the LEED community and better promote sustainable building practices.
"With the growth of commercial LEED projects, we noticed a number of LEED certified buildings with little or no communication about the specific design elements the earn certification. buildingplaques.com makes it easy for architects, LEED APs or building owners to purchase durable, attractive signage that can be displayed in a lobby, hallway or building exterior to highlight a project's design elements that earn LEED certification." – Sam Wainer, Co-Founder
Building a plaque on buildingplaques.com is fast and easy because buildingplaques.com is integrated with USGBC's LEED project database. With a LEED Project ID#, customers can design a customized LEED Recognition Plaque in less than 10 minutes. Ready-to-mount plaques are shipped 3-4 weeks after art proof approval. Each plaque is customized to include a project image (rendering or photograph), optional description, certification type/level and scores for each design element that earns LEED certification.
Buildingplaques.com designs are constructed with durable ⅛" thick architectural grade anodized aluminum. Materials are recyclable and resistant to abrasion, graffiti and sunlight/weather degradation. Plaques are available in two sizes (23"x35" or 18"x24"), color or black and white imagery and portrait or landscape orientation. All plaques include stand-offs for easy installation.
About buildingplaques.com:
Buildingplaques.com makes it easy to build high quality, customized plaques that showcase the design element of a building that earn LEED certification. LEED Recognition Plaques from buildingplaques.com have three main benefits:
…communicate the design elements that earn LEED certification by letting visitors know the elements of your design that earn LEED certification, both showcasing the design and educating the public about LEED.
…have a lower cost / faster design time than traditional custom signage because they are based on a customizable, but standard product platform. Plaque are designed in minutes and can ship in 3-4 weeks from proof approval.
…utilize sustainable materials and processes. buildingplaques.com products are designed for permanence, our plaques will not need to be replaced. If replacement is desired, the materials are 100% recyclable.
For more information, please visit http://www.buildingplaques.com.