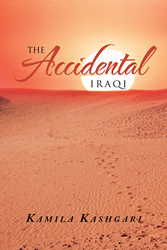 I know what it is being a woman in a culture run by men
NEW YORK CITY (PRWEB) March 09, 2016
The 2016 Presidential election has made it clear that prejudice against Muslims is still a fact of life in the United States. Kamila Kashgari, a Muslim student in NYC, hopes to combat fears about believers of Islam through a moving story of an American soldier and his Iraqi rescuer.
The Accidental Iraqi is a modern-day Romeo and Juliet story focusing on the struggles and prejudices of people living in our time and how strength, courage, and love can overcome them.
"Because I grew up as a Muslim, I am able to use my personal experience to share what others have not experienced directly," Kashgari said.
Kashgari wishes to share her experience as a minority not only as a Muslim, but also as a woman. The main character in The Accidental Iraqi must challenge not only perceptions of aiding the American enemy but also the male dominated rule in the Middle East.
"I know what it is being a woman in a culture run by men," Kashgari said. "I understand the struggle women go through and want to speak with a powerful voice about peace and love."
For more information, visit bookstore.iUniverse.com.
The Accidental Iraqi
By Kamila Kashgari
ISBN: 978-1-47595-049-6
Available in softcover, e-book
Available on Amazon, Barnes & Noble and iUniverse
About the author
Kamila Kashgari is currently a language student at First Zen Institute of America in NYC. The Accidental Iraqi is her first novel.
# # #
**FOR IMMEDIATE RELEASE**
For review copies or interview requests, contact:
Jaymie Shook
317.602.7137
jshook(at)bohlsengroup(dot)com