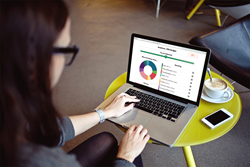 With each adjustment to tax and spending categories, users instantly see the near-term and long-term impact on balancing – or not balancing -- the nation's budget. - Bill Hoagland, SVP, Bipartisan Policy Center
Washington, D.C. (PRWEB) March 17, 2016
The Bipartisan Policy Center in partnership with Engaged Public's Balancing Act today launched Federal Balancing Act: An Interactive Budget Simulation to promote a deeper dialogue and citizen engagement on the federal budget. The user-friendly interactive tool was created by Denver public policy firm Engaged Public, with the budget narrative and analysis provided by BPC, a Washington think tank.
"With the federal budget deficit increasing once again and a presidential election underway, now is the perfect time for citizens to engage on the issue with the Federal Balancing Act budget simulation," Bill Hoagland, senior vice president at BPC, said. "This tool gives individual citizens the opportunity to easily craft a budget that reflects their priorities."
The Federal Balancing Act simulation begins with a breakdown of the budget for Fiscal Year 2016, which is projected to run a $544 billion deficit, and includes information about how the government collects taxes and what programs the money is spent on. Users are then able to make changes to tax and spending categories based on their policy priorities. The simulator also projects the impact of those decisions 25 years out.
"Citizens pay trillions of dollars a year in taxes, but few understand the process for collecting and spending that money," said Chris Adams, president of Engaged Public. "We are changing that with a convenient simulation-based tool that not only shows the public how their federal tax dollars are currently raised and spent, but also asks them to constructively join the decision-making process."
Users have the opportunity to adjust a wide variety of federal programs, including health care, Social Security, defense, anti-poverty safety nets, veterans' benefits and services, infrastructure, education, scientific research, and many others. Changes to revenue sources -- such as individual income taxes, corporate income taxes, the federal gas tax and more -- can pay for these programs.
"As consumers, Americans have come to expect information about what they buy," Adams said. "As citizens, they should expect the same. Our goal is to connect people to government at all levels through transparency and genuine opportunities for participation."
Federal Balancing Act also allows users to see the potential impact of changes to politically sensitive policies including:

Addressing the costs of entitlement programs like Medicare
Raising Social Security's retirement age
Changing average income tax rates
Adjusting spending levels on domestic investments such as infrastructure, education and scientific research
"With each adjustment to tax and spending categories, users instantly see the near-term and long-term impact on balancing – or not balancing -- the nation's budget," Hoagland said.
BPC and Engaged Public will report regularly on what is learned about public preferences from the simulator.
For more information, visit the Federal Balancing Act.
Bipartisan Policy Center
The Bipartisan Policy Center (BPC) is a non-profit organization that drives principled solutions through rigorous analysis, reasoned negotiation and respectful dialogue. With projects in multiple issue areas, BPC combines politically balanced policymaking with strong, proactive advocacy and outreach. As the only Washington, DC-based think tank that actively promotes bipartisanship, BPC works to address the key challenges facing the nation. Visit us at http://www.bipartisanpolicy.org.
About Engaged Public
Engaged Public is a Denver-based, boutique public engagement firm that develops strategies for solving problems, working with civic leaders, stakeholders, and the public. Engaged Public is also the creator of civic engagement apps Balancing Act, an interactive budget simulation tool for learning about public budgets, and the Taxpayer Receipt, a breakdown of taxes paid. To learn more visit us at http://www.EngagedPublic.com.