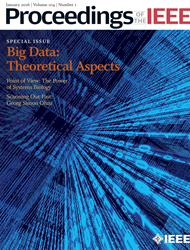 Timely and relevant, the special issue of Proceedings of the IEEE on Big Data helps readers understand statistical learning and algorithms in large-scale data.
Piscataway, NJ (PRWEB) March 08, 2016
Proceedings of the IEEE, the most highly cited general-interest journal in electrical engineering and computer science, has just published the first of two special issues covering the theoretical aspects of Big Data.
The first issue consists of nine papers covering a variety of topics in formulation and algorithmic approaches that are fundamental to data analysis, both in formulating and solving problems.
The issue, which was spearheaded by a team of three guest editors, Simon Haykin, IEEE Fellow and University Professor in the Faculty of Engineering at McMaster University in Canada, Stephen J. Wright, Professor of Computer Sciences at the University of Wisconsin-Madison, and Yoshua Bengio, Professor at the Department of Computer Science and Operations Research at the University of Montreal, presents a variety of methods that can be apply to many specific application areas.
Timely and relevant, the special issue helps readers understand statistical learning and algorithms in large-scale data. Topics covered include:

How statistical models can be ''trained'' on large knowledge graphs and then used to predict new facts about the world. Google's Knowledge Vault project provides an example of such combinations.
Insights, pros, and cons of the emerging indexing and search methods for Big Data.
New approaches that incorporate data-driven learning methods in the development of advanced hash functions.
A framework for answering the fundamental question: ''When can reliable inference be drawn in the ''Big Data'' context?''
Recent work on developing and implementing randomized matrix algorithms in large-scale parallel and distributed environments.
A correlation-mining framework for large-scale inference.
A framework for the allocation of a given set of resources to a collection of sources in order to optimize a specified metric of statistical efficiency.
How maximum aggregation can address certain challenges in large-scale data analysis of inhomogeneous data.
The mathematical and computational techniques that have enabled learning reductions to effectively address a wide class of tasks.
How a tweak to the aggregation step can produce an estimator whose influences are common to all the data, often resulting in a better prediction than would be the case with pooled effects.
An introduction to Bayesian optimization, a powerful tool for performing joint optimization. It promises greater automation, which will lead to increases in both product quality and human productivity.
The paper, ''Machine Learning in Genomic Medicine: A Review of Computational Problems and Data Sets,'' by Leung et al. provides an introduction to machine-learning tasks in genomic medicine. One of the objectives of genomic medicine is to determine how variations in the DNA of individuals can affect the risk of different diseases so that targeted therapies can be designed. However, engineers believe machine learning can help to model the relationship between DNA and the quantities of key molecules in the cell, with the premise that these cell variables may be associated with disease risks. With the growing availability of large-scale data sets and advanced computational techniques such as deep learning and predictive modeling, researchers in machine learning can help to usher in a new era of effective genomic medicine.
To learn more about the theoretical aspects of Big Data, please visit the Proceedings of the IEEE's website, LinkedIn or Facebook page.
About the Proceedings of the IEEE
Founded in 1912 and first published in early 1913 (originally as Proceedings of the IRE), Proceedings of the IEEE is the most highly cited general-interest journal in electrical engineering and computer science. This journal provides the most in-depth tutorial and review coverage of the technical developments that shape our world, enlisting the help of guest editors and authors from the best research facilities, leading-edge corporations and universities around the world. For more information on Proceedings of the IEEE and the latest ideas and innovative technologies, visit http://www.ieee.org/proceedings, LinkedIn and Facebook.
About IEEE
IEEE, the world's largest technical professional association, is dedicated to advancing technology for the benefit of humanity. Through its highly cited publications, conferences, technology standards, and professional and educational activities, IEEE is the trusted voice on a wide variety of areas ranging from aerospace systems, computers and telecommunications to biomedical engineering, electric power, and consumer electronics. Learn more at http://www.ieee.org.