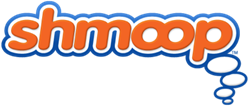 Every video has to tell a story. That's how students think. That's how everyone thinks. The best learning is felt, not just known.
Mountain View, California (PRWEB) March 08, 2016
Teachers and parents looking for run-of-the-mill, lecture-style educational videos have their pick of the litter. Visit yawns.com, snore.edu, and BoringVille.org for fine examples.
But what about educators who want their students to actually enjoy learning? Well, Shmoop's educational videos are like Brussels sprouts coated in sugar. Just… less disgusting. Shmoop (http://www.shmoop.com), a digital publisher known for its award-winning Test Prep and certified Online Courses, has a collection of over 4,000 free educational videos that will keep students on their toes by relating concepts to their lives and dropping more pop culture references than a tween blogger.
Shmoop's videos cover the gamut of topics, including test prep, math, literature, English, social studies, science, life skills, and college and career readiness. Students can learn how to graph limits from an aspiring sumo wrestler or discover the benefits of delayed gratification from a talking dinosaur-chicken tag team. And the video styles range from interviews with PhDs to puppets talking about finance, which means there's something for everyone. For students looking to review a given topic, Shmoop has specially curated hundreds of playlists covering everything from common grammar mistakes to fractions and decimals to dystopian literature. All of these videos are found on the recently redesigned ShmoopTube and scattered throughout the site within Test Prep Guides, Online Courses, and Learning Guides to give students a different way to digest the material.
Shmoop founder, David Siminoff, spent several years in the depths of Hollywood and knows what grabs people. "Every video has to tell a story," he says. "That's how students think. That's how everyone thinks. The best learning is felt, not just known." Shmoop's videos reach students on an emotional level so they feel connected to the material, remember it, and think more critically about it.
For students who are prone to falling down the video rabbit hole, Shmoop also offers structured watching with online video courses. Individuals and small groups can access these courses via a Shmoop subscription, while schools and districts looking for bulk subscriptions on courses, test prep, and more, can contact sales(at)shmoop(dot)com for a quote.
About Shmoop
Shmoop offers hundreds of thousands of pages of original content. Their Online Courses, Test Prep, Teaching Guides, Learning Guides, and interactive Study Tools are written by teachers and experts and balance a teen-friendly, approachable style with academically rigorous concepts. Shmoop sees 13 million unique visitors a month across desktop and mobile. The company has won numerous awards from EdTech Digest, Tech & Learning, and the Association of Educational Publishers. Launched in 2008, Shmoop makes the magic happen from a labradoodle-patrolled office in Mountain View, California.