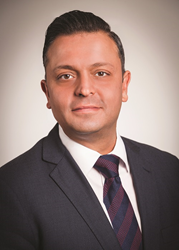 LAS VEGAS, Nevada (PRWEB) March 07, 2016
Ricardo A. Gonzalez, a shareholder in the Miami office of international law firm Greenberg Traurig, LLP, will speak on a panel at the 2016 Hispanic National Bar Association (HNBA) Corporate Counsel Conference, to be held March 16-19, in Las Vegas. The HNBA Corporate Counsel Conference provides Corporate America and the HNBA a forum to connect, offering opportunities for outside counsel to meet representatives from numerous Fortune 500 companies in an educational and dynamic setting.
Gonzalez will be speaking on the workshop titled "Over Budget? Using Technology to Minimize Litigation Costs" on Friday, March 18th. The panel will discuss and provide live demonstrations on how to take advantage of technology to make a practice more efficient and cost effective.
Gonzalez focuses his practice in a wide range of commercial disputes before state and federal courts and domestic and international arbitration and alternative dispute resolution tribunals. He has represented and counseled clients in fraud, Racketeer Influenced and Corrupt Organizations (RICO) Act, negligence, breach of contract, breach of fiduciary duty, unfair and deceptive trade practices, securities fraud, and probate matters. In addition, Gonzalez has represented and counseled clients in the defense of regulatory investigations and civil enforcement proceedings.
The HNBA, a nonprofit, non-partisan, national membership organization that represents the interests of Hispanic legal professionals in the United States and its territories, is committed to advancing issues of importance to the 53 million people of Hispanic heritage living in the U.S. through advocacy, education, professional development, and innovative programming, among other means.
About Greenberg Traurig's Diversity Initiative
From its inception, Greenberg Traurig has been committed to diversity and inclusion in the workplace. Greenberg Traurig is a uniquely empowering and diverse firm built on a foundation of fairness, equality, and authenticity. The firm is among Law360's Top 25 Law Firms for Hispanic Attorneys and the Top 30 for "100 Best Law Firms for Minority Attorneys" in 2015. In addition the firm was recognized in 2015 by Chambers USA Women in Law Awards as the "Most Inclusive Firm for Minority Women Lawyers."
About Greenberg Traurig, LLP
Greenberg Traurig, LLP is an international, multi-practice law firm with approximately 1,900 attorneys serving clients from 38 offices in the United States, Latin America, Europe, Asia, and the Middle East. The firm is No. 1 on the 2015 Law360 Most Charitable Firms list, third largest in the U.S. on the 2015 Law360 400, Top 20 on the 2015 Am Law Global 100, and among the 2015 BTI Brand Elite. More information at: http://www.gtlaw.com.