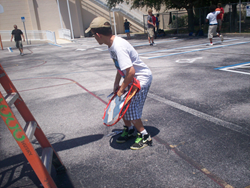 The Discovery program really catered to Joey, where everything else he had done catered to the people running the program
Cocoa, Florida (PRWEB) March 23, 2016
Joey Cunio wanted to work, but he couldn't find the right job — a problem all too common for those with intellectual disabilities. According to the Agency for Persons with Disabilities, over 50,000 Floridians have intellectual or developmental disabilities. Though many are capable of holding down jobs, only 18% of Floridians with disabilities aged 16 and over are employed.
So when Joey needed help finding work, he went to Vocational Rehabilitation (VR), a state agency that helps people with disabilities get or keep jobs. Joey was assigned a VR Counselor, Timothy Seaman, who helped him create a career plan, but he got off to a slow start. "It wasn't going very well for a long time because Joey doesn't like anybody getting into his business," says Timothy. "Anytime we tried to place him in a job, he'd want to quit. I was at the point where we couldn't do anything else, so we tried the Discovery program. It made it very easy to find employment for him."
In the Discovery program, trained employment specialists spend extra time with VR customers, working with them to determine their interests and observing them to see how they handle situations in their daily lives. The individualized attention was just what Joey needed. "The Discovery program really catered to Joey, where everything else he had done catered to the people running the program. It worked really well," Timothy explains.
Joey was paired with Donald Blair from Easter Seals as his Discovery coach, and Donald helped Joey recognize his interests. "Joey is somewhat private," says Donald. "Although I had asked him several times if he was involved in any activities or groups, he had always said no. It wasn't until late in the Discovery process that I learned that he walked to his church several times throughout the week and hung out, occasionally helping the maintenance staff."
That information was crucial for Joey's job search. Donald sent a letter to the church's pastor and facilities director outlining a plan and specific job duties for Joey if they would consider hiring him. They agreed.
Joey was thrilled to learn that he would be working at the church. "When I told him that the church was going to hire him, he couldn't stop smiling," says Donald.
Joey is now employed as a maintenance helper at his church, East Coast Christian Center, where he works an average of 8-10 hours a week. Timothy is very proud to see his progress. "He's doing very well at his new job," says Timothy. "He does it with very little supervision."
Aside from setting out specific job duties for Joey, his supervisor writes and submits a time card for him that states the days and hours that he works each week. He also provides Joey with a second set of time cards that he can use to help him keep track of the days and hours that he works and the wages he receives. "This is a creative and thoughtful accommodation to help Joey due to his memory issues," Donald explains. "As of last report, he has not forgotten to go to work or been late for work."
Joey is glad he now has the opportunity to work and remains grateful for those who have helped him along the way. "My counselor made a difference for me by being patient and suggesting that I try the Discovery program," Joey says. "VR helped change my life by getting me a job. I don't think that I would have been able to do it without their help."
About Vocational Rehabilitation
Florida's Vocational Rehabilitation (VR) is a federal-state program committed to helping people with disabilities become part of America's workforce. The employer-focused website, https://abilitieswork.employflorida.com/, allows businesses to search at no charge for employees who are ready to go to work, as well as to post available jobs. VR has 90 offices across Florida, and last year helped 5,760 Floridians with significant disabilities find or keep a job. For more information about VR and its services, call (800) 451-4327 or visit http://www.Rehabworks.org