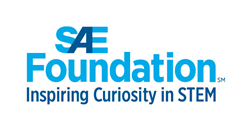 We are grateful to the Alcoa Foundation for their generous donation that enables this important event to occur. - Chris Ciuca, Director of Pre-Professional Education for SAE International
WARRENDALE, Pa. (PRWEB) March 07, 2016
More than 800 fifth grade students from the Cleveland Metropolitan School District are gaining hands-on engineering experience through SAE International's A World In Motion (AWIM) program.
Made possible through a grant by the Alcoa Foundation and classroom support by 20 Alcoa Cleveland Operations volunteers, the students began the Straw Rockets program in February. Working in design teams, students are currently building, testing, and modifying rockets made from drinking straws. By changing one variable at a time, students are employing problem-solving skills to design rockets that meet specific goals.
The curriculum will culminate with the 2016 Cleveland Metropolitan School District Competition, which will be held on March 11, 2016 from 11 a.m.-1 p.m. at the East Professional Center Gymnasium, 1349 East 79th Street, Cleveland, Ohio 44103.
"We are grateful to the Alcoa Foundation for their generous donation that enables this important event to occur," Chris Ciuca, Director of Pre-Professional Education for SAE International said. "With this gift, in conjunction with a successful partnership with the Cleveland Metropolitan School District, we are able to help provide students with an opportunity to engage in a STEM challenge that could keep them interested in the sciences for years to come."
Journalists interested in attending should email pr(at)sae(dot)org or call 1-724-772-8522.
Each AWIM activity incorporates a curriculum built around the "Engineering Design Experience," and requires students to work in teams to solve a "challenge" to design, build, and present a product. In addition, an industry volunteer works in the classroom to assist teachers with AWIM content delivery and serve as a role model, community liaison and professional resource. This winning combination of a pedagogically sound curriculum, teacher professional development, and the use of STEM professionals in the classroom is research-proven to be effective. AWIM is working to engage and inspire students at the earliest age possible to pursue STEM subjects and careers.
SAE International is a global association committed to being the ultimate knowledge source for the engineering profession. By uniting over 127,000 engineers and technical experts, we drive knowledge and expertise across a broad spectrum of industries. We act on two priorities: encouraging a lifetime of learning for mobility engineering professionals and setting the standards for industry engineering. We strive for a better world through the work of our philanthropic SAE Foundation, including programs like A World in Motion® and the Collegiate Design Series™.
About Alcoa Foundation
Alcoa Foundation is one of the largest corporate foundations in the U.S., with assets of approximately $480 million. Founded 64 years ago, Alcoa Foundation has invested more than $635 million in communities worldwide. In 2015, Alcoa Foundation contributed more than $22 million to nonprofit organizations throughout the world, building innovative partnerships to improve the environment and educate tomorrow's leaders for careers in manufacturing and engineering. The work of Alcoa Foundation is further enhanced by Alcoa's thousands of employee volunteers who share their talents and time to make a difference in the communities where Alcoa operates. Through the Company's signature Month of Service program, in 2015, 47 percent of Alcoa employees took part in 1,000 events across 24 countries, benefiting more than 300,000 people and 400 nonprofit organizations. For more information, visit alcoafoundation.com and follow @AlcoaFoundation on Twitter.