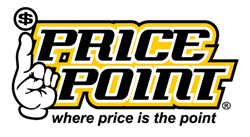 "These are the bikes to have and with the discount, this is the time to buy."
(PRWEB) March 08, 2016
Price Point has announced month long promotions specifically geared toward the upcoming mountain bike season. With the snow beginning to melt across the country mountain bikers everywhere are gearing up to get back in the saddle. Price Point is offering MTB'ers a chance to stock up on all the gear needed to get that ride out on the trails. Unlike other sales in the industry this sale will continue through the entire month of March. Price Point will continue to offer free shipping with the lowest minimum purchase in the industry of just $29.
Also this month, Price Point will offer deep discounts on Price Point Exclusive Builds. These bikes are expertly crafted and assembled by Price Point master mechanics. Price Point compiles these exclusive builds starting with a high quality frame and adds some of the best components on the market to make a limited production bike that can't be beat. Price Point Master Mechanic Cameron Calderon offers "the research is extensive for these builds, the idea is to put together components that would not normally be found on a manufactures build to create the ultimate ride" Cameron adds "These are the bikes to have and with this discount, this is the time to buy."
The mountain bike sale begins March 4th and will continue until March 31st. Sale items also include free shipping with a $29 minimum purchase. To see everything being discounted, visit http://www.pricepoint.com/sale/mtb-blowout/. The Exclusive Build sale begins March 7th and will also continue through the end of the month. To visit the Exclusive Build page go to http://www.pricepoint.com/Bikes-Frames/price-point-custom-pro-builds/. Stay tuned for future promotions and giveaways at http://www.pricepoint.com.