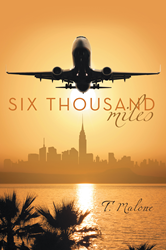 You can't take a back seat to your fears just because you have been knocked down your entire life
New York (PRWEB) March 14, 2016
Letting your guard down can lead you into great unknowns.
T. Malone started and ran a successful business while learning to change the way she deals with people personally and professionally. She says, "Standing up for your emotions and wants is the very first and biggest step." Malone has worked to better understand the healing of the mind and body that can become damaged over time.
In her new book, Six Thousand Miles, the main character, Tia Malone, goes on a journey of discovery that leads to self-fulfillment and the realization of a brighter future. As one man changes her life for the better, Tia finds empowerment through the unknown.
"The story of this woman is very raw at times, opening the reader up to maybe delve into their own psyche," Malone said.
Six Thousand Miles is about one women's journey within her own mind overcoming previous abuse, and how she discovered her true mind, body and soul.
"You can't take a back seat to your fears just because you have been knocked down your entire life," Malone said.
"Six Thousand Miles"
By T. Malone
ISBN: 978-1-48081-438-7
Available in softcover, hardcover, e-book
Available on Amazon, Barnes & Noble and Archway Publishing
About the author:
Author T. Malone is a successful businesswoman who raised four children in Hawaii and enjoys meditation. Six Thousand Miles is her first novel. She currently lives in Hawaii
# # #
For review copies or interview requests, contact:
Delanie Olsen
847.749.5956
dolsen(at)bohlsengroup(dot)com