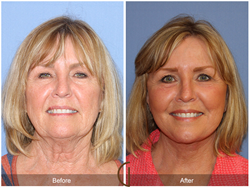 As we age, the muscles and skin in the neck and lower face tend to sag," Dr. Sadati explains. "To combat this problem, I developed the Double 'C' Plication Technique
Newport Beach, CA (PRWEB) March 10, 2016
Recently aesthetic industry leaders gathered in Marina Del Ray, CA at the AACD LA 2016 Meeting, bringing together the 'BEST in LA' and across the nation. This unique learning experience was geared towards plastic and cosmetic surgeons, doctors, and nurses who are interested in bringing new procedures, ideas, treatments and technology to their patients.
Dr. Kevin Sadati spoke at the meeting about his specially developed lower face and neck lift method using local anesthesia and twilight sedation. For over ten years, Dr. Sadati has skillfully performed countless cosmetic procedures, as well as developed many different improvements to commonly performed procedures. One area Dr. Sadati has concentrated on is face and neck lifts. His specially developed Double "C" Plication Technique, performed during his renowned Natural Lift procedure, is a minimally invasive muscle tightening technique that offers natural looking results as opposed to the "tight" or "pulled" surgical look that is common with traditional facelifts. Dr. Sadati's procedure gradually tightens and softly lifts the muscles in the face to create a more youthful look. Because the skin is not pulled in the same way as a traditional facelift, this technique provides a refreshed look, and a smooth and rejuvenated neck and lower face without an artificial and overly tight look.
"As we age, the muscles and skin in the neck and lower face tend to sag," Dr. Sadati explains. "To combat this problem, I developed the Double 'C' Plication Technique, which is a safer and more reliable technique that provides the patient with a youthful looking face." Dr. Sadati has extensive experience performing this procedure. In his paper "The Double 'C' Plication Technique: A Reliable Technique for Lower Facial Rejuvenation," which was published in The American Journal of Cosmetic Surgery, Dr. Sadati reveals that he performed thousands of facelifts using this technique, coupled with local anesthesia. The results revealed a more natural looking and longer lasting facelift with a shorter recovery time for patients. A main point of his presentation was his use of local anesthesia and twilight sedation as opposed to general anesthesia. Local anesthesia is a safer alternative to general anesthesia. It also reduces the recovery time and costs placed on the patient.
The AACD meeting provides highly skilled plastic surgeons the opportunity to share the latest research, ideas, research and trends in plastic surgery. For more information on Advanced Aesthetics & Cosmetic Dermatology, visit the website at aacdmeeting.org.
Dr. Kevin Sadati, a highly-respected facial plastic and reconstructive surgeon, was honored to offer other surgeons and medical personnel insight into his unique and specially developed facial muscle tightening technique. His research was well received and, since its initial development, has been adopted by many fellow surgeons. Dr. Sadati and his team at the Gallery of Cosmetic Surgery are happy to speak with potential patients and answer questions about this unique technique. For more information about Dr. Sadati and his Double "C" Plication technique, visit the Gallery of Cosmetic Surgery website at http://www.galleryofcosmeticsurgery.com.