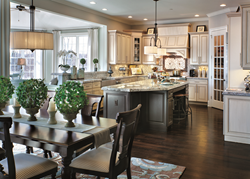 Not only do buyers have a wide range of choices in countertops, cabinetry, fixtures, and more, but they will also benefit from an even better functioning work space in the room that is the centerpiece of the home – the kitchen
Horsham, PA (PRWEB) March 08, 2016
From Saturday, March 12 until Sunday, March 20, 2016, Toll Brothers is hosting its limited-time Dream Kitchen Sales Event throughout the Company's suburban communities in Connecticut, Massachusetts, New Jersey, and New York. Home buyers now have the opportunity to add more style, elegance, and value to their new Toll Brothers home for less. Buyers who place a deposit on a new home during this event will receive a select list of luxury upgrades and finishes, at no extra cost.
"This special event is the ideal opportunity for buyers to get the gourmet kitchen they've always wanted, with included upgrades in addition to our current, unmatched list of outstanding features," said Rob Parahus, Toll Brothers Regional President. "Not only do buyers have a wide range of choices in countertops, cabinetry, fixtures, and more, but they will also benefit from an even better functioning work space in the room that is the centerpiece of the home – the kitchen," he added.
To take advantage of the special savings and incentives that will be offered through Toll Brothers' Dream Kitchen Sales Event, buyers must place a deposit on a new home at a participating community between Saturday, March 12 and Sunday, March 20, 2016, sign an Agreement of Sale within 10 days, and close on the home. Incentives will vary among communities and will comprise a package of savings created specifically for this event, so buyers should contact their community of interest and speak with a sales representative to learn more.
For more information and directions to participating communities, visit TollBros.com/DreamKitchen
Toll Brothers, an award-winning Fortune 1000 company founded in 1967, embraces an unwavering commitment to quality and customer service. Toll Brothers is currently building nationwide and is a publicly owned company whose stock is listed on the New York Stock Exchange (NYSE: TOL). The Company was honored as the World's Most Admired Home Building Company 2016* by Fortune magazine in its 2016 Survey of The World's Most Admired Companies, and ranked #6 across ALL INDUSTRIES in Quality of Products/Services Offered, after Apple, Walt Disney, Amazon, Alphabet, and Nordstrom. The Company was named America's Most Trusted Home Builder™ 2015** by Lifestory Research, receiving the highest numerical score among the largest 133 home builders in the country in a study that measures, among other things, perceptions of quality, price, reputation, and trust. Toll Brothers was also recently named national Builder of the Year by BUILDER magazine, and was twice named national Builder of the Year by Professional Builder magazine. This is not an offering where prohibited by law.
*Fortune magazine's survey of the World's Most Admired Companies for 2016 began with over 1,500 companies across more than 50 industries, and asked over 4,000 executives, directors, and analysts to rate companies in their own industry on nine criteria.
**Toll Brothers received the highest numerical score in the United States in the proprietary Lifestory Research 2015 America's Most Trusted™ Home Builder study. Study based on 43,200 new home shoppers in 27 markets. Proprietary study results are based on experiences and perceptions of consumers surveyed between January and December 2014.