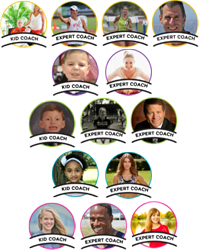 "We're pleased to offer a program that encourages individuals and organizations to achieve personal fitness goals while helping local kids get well," said John Lauck, president and CEO of CMN Hospitals
Salt Lake City (PRWEB) March 09, 2016
Children's Miracle Network Hospitals, a charity raising funds for 170 member hospitals across North America, today announced the coaches and open registration for its April wellness program, Miracle Challenge. From April 1-27, participants will receive daily fitness and fundraising challenges from coaches specific to their chosen fitness track. Jennifer Widerstron, "The Biggest Loser" coach, and Olympians Tim and Rachel Seaman are among the expert coaches who will be motivating Miracle Challenge participants to meet their fitness goals.
To inspire fundraising achievements as well as fitness achievements, kid coaches who know firsthand the impact of local donations will also provide tips. Kid coach Tripp Halstead is a CMN Hospitals patient working to regain his motor skils after a traumatic injury. His mother, Miracle Challenger Stacy Halstead, uses exercise to help cope with the challenges of caring for a son with severe injuries. She's lost more than 25 pounds since taking up running and has raised more than $67,000 through Miracle Challenge with the help of a supportive community, including more than 1.3 million Facebook fans at Tripp Halstead Updates.
"We're pleased to offer a program that encourages individuals and organizations to achieve personal fitness goals while helping local kids get well," said John Lauck, president and CEO of Children's Miracle Network Hospitals. "As an avid cyclist, I appreciate the benefits of regular exercise and I'm honored to be included in the lineup of Miracle Challenge fitness coaches. I'm also inspired by this year's kid coaches who remind us that donations to children's hospitals are vital to continue improving kids' health."
"Miracle Challenge is a perfect mix of corporate wellness and community engagement," said Amy Moyer, CMN Hospitals program specialist at Marriott International, where Miracle Challenge 2015 was implemented as a wellness program. "Our Marriott properties and associates were able to give back to a cause they care about while helping themselves by incorporating exercise into their daily routines. For our organization, where we want our associates to have a positive impact on the community and their own lives, this program is a win-win."
The April 2016 fitness tracks and coaches are as follows:
Boot Camp Track

Expert Coach: Jennifer Widerstrom, "The Biggest Loser" coach
Kid Coach: Ariana, traumatic injury patient
Walking Track

Expert Coach: Tim Seaman, Olympic race walker
Expert Coach: Rachel Seaman, Olympic race walker
Expert Coach: Jeff Salvage, professional walking coach
Kid Coach: Tripp, traumatic injury patient
Yoga Track

Expert Coach: Roni Elissabeth, yoga expert
Kid Coach: Brody, omphalocele patient
Running Track

Expert Coach: Monica Olivas, certified running coach
Expert Coach: Willie Gault, NFL and track star
Kid Coach: Gabby, trachea congenital defect patient
Cycling Track

Expert Coach: Heather Lind, indoor cycling expert
Expert Coach: John Lauck, president and CEO of CMN Hospitals
Kid Coach: Mason, genetic disorder patient
Throughout Miracle Challenge, participants will also enjoy special appearances from "Power-up Coaches" including strength coach Jordon Simmons and bloggers from Fit Bottomed Mamas, Fit Bottomed Eats and Fit Bottomed Girls.
Miracle Challenge donations go to the participant's local CMN Hospital to help children in the participant's community. Individual hospitals are able to decide where funds are best used, typically for critical treatements and services, research, medical equipment or charitable care.
To learn more about Miracle Challenge or to register for the 27-day program, visit MiracleChallenge.org. Find more information on Children's Miracle Network Hospitals at CMNHospitals.org.
About Children's Miracle Network Hospitals
Children's Miracle Network Hospitals® raises funds and awareness for 170 member hospitals that provide 32 million treatments each year to kids across the U.S. and Canada. Donations stay local to fund critical treatments and healthcare services, pediatric medical equipment and charitable care. Since 1983, Children's Miracle Network Hospitals has raised more than $4.7 billion, most of it $1 at a time through the charity's Miracle Balloon icon. Its various fundraising partners and programs support the nonprofit's mission to save and improve the lives of as many children as possible. Find out why children's hospitals need community support, and learn about your member hospital, at CMNHospitals.org and facebook.com/CMNHospitals.