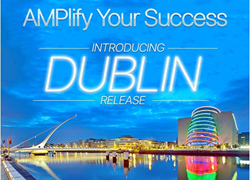 We are focused on one goal at AMP, deepening the User Experience through simple solutions.
Silicon Valley, CA (PRWEB) March 08, 2016
Today, AMP Technologies releases their Dublin Release, deeper business insights brought to life in 30 seconds or less, taking Users experience to the next level. This release brings a powerful competitive advantage to Users by giving them even more value in AMP's already dynamic asset management platform. AMP lets Users increase their business IQ, immediately gain deeper insights, and enhance their industry knowledge all with one simple solution. With the combination of this release and the brand new Ubermanager App, AMP has launched themselves even further into the future of Commercial Real Estate.
UBERMANGER VIDEO – CLICK HERE
"We are focused on one goal at AMP, deepening the User Experience through simple solutions. Every month we have a new release, this is a speed most can't keep up with. We believe in providing the next level of innovation; our Users expect the very latest in technology and that's exactly what we will deliver. AMP has seen incredible success with our Ubermanager App, our breakthrough technology will continue to impress and enrich our Users capabilities." Santhosh Kumar, Senior Product Manager of AMP Technologies.
AMP'S LEADING TECHONOLOGY – CLICK HERE
Highlights:
•Economic Occupancy: Economic Occupancy will portray a more accurate picture of the revenue generating capability of the property taking into account the hidden revenue losses like the discounts, concessions and free rent.
•New weekly summary email: A quick one-pager of the owned/managed portfolio will now reach Client's inbox on a weekly basis enabling Client to keep track of their portfolios on the go and all-in-one snap shot, completely customizable for each User.
•Enhanced dashboard: The Property Info section is enhanced with new look and feel, providing more information around location, financing, third party reports and insurance giving Users even more of a competitive edge.
•Additional attributes: Multiple attributes have been added to the home dashboard to let Users view their properties exactly how they want to so they can easily maximize their performance level.
•New trend charts: IRR trend charts have been added letting Users quickly see the relationship between value and NOI of their properties.
ABOUT AMP TECHNOLOGIES -CLICK HERE
Headquartered in Mountain View, California, AMP Technologies provides a suite of products and services for commercial real estate asset management. The AMP Technologies Platform is a powerful, yet highly intuitive platform to monitor and manage individual properties and large portfolios. Its products are built on best-of- breed cloud technology and are designed for the modern enterprise to provide sophisticated business intelligence, collaboration and management tools. With a comprehensive, yet highly intuitive, platform for monitoring and managing individual properties to entire portfolios, AMP provides the key tools needed for every level of management for effective analysis and decision-making.