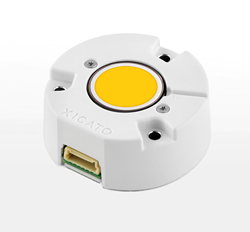 (PRWEB) March 08, 2016
Xicato, a leading manufacturer of intelligent LED light sources, today announced that the Xicato Intelligent Module (XIM) has received the Sapphire Award from LEDs Magazine in the category Modular LED Light Engines. The award was presented last week at a special event associated with the Strategies In Light conference in Santa Clara, California.
Intelligent LED Light Modules form a new category of product that integrates an LED array with a feature rich electronic driver in a single compact module. These products simplify luminaire design and assembly, typically enable smaller fixtures, and reduce the need by OEMs to inventory separate drivers for each array. Integrated modules are predicted to become the platform of choice for implementation of intelligent, wirelessly controlled lighting.
Xicato XIM stands out because of the color quality of the array, the quality of the dimming, the integration of internal sensors, data tracking and storage. It supports different control protocols, including 1-10V, DALI, and soon Bluetooth Low Energy. Xicato is well known for color quality and consistency, including an industry-unique warranty for color consistency over lifetime. The XIM provides deep, smooth dimming to 0.1%, and complies with IEEE 1789 flicker standard. It incorporates sensors that track and store operating hours, intensity and temperature history, input voltage, and several other parameters, enabling a 7 year or 50,000 hour verifiable warranty on the entire module, including both the LEDs and the electronics.
"LEDs Magazine has become a leading voice in the LED industry, and the Strategies In Light conference is one of the major educational events addressing issues and opportunities associated with LED technology -- one that we have supported for many years," said Menko De Roos, CEO of Xicato. "Xicato is privileged to have contributed four speakers to different panels at the event this year. Conference attendees can, in just a few days, catch up on advances in everything from color quality measurement, to new standards, to lighting controls and IoT."
The XIM product is available today in Artist Series(r), Standard Series, and Vibrant Series(r), in 2700K, 3000K, 3500K and 4000K CCT, and in 9mm and 19mm light emitting surfaces. See XIM and all the Xicato products by visiting Xicato at Light+Building in Frankfurt, Germany, March 13-18. Our light hearted booth - Xicato Man's headquarters - is both entertaining and informative, with regular demonstrations, invited speakers, and areas where visitors can play with BLE lighting control, learn about TM-30, and much more.
About Xicato:
Xicato designs and develops light sources and electronics that enable architects, designers and building managers to create beautiful, smart spaces in which people love to live and work. With thousands of installations around the globe, Xicato continues to be a leading supplier of high quality lighting solutions. Xicato is defining the future of intelligent light sources by integrating electronics, software and connectivity. Founded in 2007, Xicato is headquartered in Silicon Valley and has offices in China, Japan, Europe and the US.
For further information, visit http://www.xicato.com.
For additional information, contact:
Nicole Brockett
Marketing Manager
Xicato, Inc.
+1 408.472.7928
nicole.brockett@xicato.com