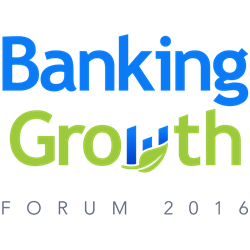 The 2016 Banking Growth Forum participants will leave the event armed with two-days of insights, new tools, and fresh ideas to drive growth in their organizations.
San Francisco, California (PRWEB) March 09, 2016
Nomis Solutions today announced its 9th Annual Banking Growth Forum to be held at the San Francisco Grand Hyatt Hotel on May 18-20. The Banking Growth Forum is the only retail banking conference exclusively focused on growth. This year's event will bring retail-banking experts from around the world together with Fintechs to focus on "Reinventing the Growth Playbook." This year's event comes at a pivotal time as bankers are seeking new strategies and new technology to help navigate the first US rising interest rate climate in more than a decade.
This annual event, formerly known as the Nomis Forum, is taking on a very different flavor starting this year.
"This year, we opened the lens to all disciplines of growth: from product design to leveraging advanced Fintech partnerships to streamline processes & customer experiences," said Ken Pulverman, CMO at Nomis Solutions. "In the process we have restructured the event as a true strategic industry gathering. While price and offer optimization – our core disciplines – are key ways banks make growth happen, they are not the only disciplines for growth. The balanced growth agenda is now so much bigger than optimizing offers and prices, involving top strategic consultants including SKP and BRG, bank data partners Icon and Informa, customer growth stories from top banks including Scotia and Tangerine, cutting edge Fintechs like Lending Club and much more."
The two-day conference will bring together 125 executives from 30 of the largest global financial institutions and some of the biggest names in financial technology to zero in on the key levers of retail banking growth. Past attendees can be found here.
The agenda includes:
● Sessions focused on every aspect of banking growth
● A new innovation track that shows Fintech approaches to "hacking" growth
● A pricing executive workshop that demonstrates this growth lever
● A deposits "master class" with Oliver Wyman informed by decades of bank growth strategies
● Interactive panels and roundtables with banking growth leaders
● Perspectives from the financial analyst community and alternative finance experts
● Success stories from retail brick and mortar and direct banks
● Partner pavilion of growth solutions providers
"Growth has been hard to come by for retail banks in recent years," said Frank Rohde, CEO of Nomis Solutions. "But there are ways to make it happen that bankers don't naturally think of. The 2016 Banking Growth Forum participants will leave the event armed with two-days of insights, new tools, and fresh ideas to drive growth in their organizations."
Conference registration and more information can be found at the Banking Growth Forum website. Speaker applications and media credential inquiries are being handled by Emily Peters who can be contacted at emily(at)uncommonbold(dot)com.
About Nomis
Nomis is a fast-growing Fintech software company that combines cutting-edge Silicon Valley approaches to big data, advanced modeling, and deep analytics into the industry-leading price optimization SaaS software platform. We help large and medium-sized retail banks better understand their customers and grow their businesses. We help these banks deliver win-win products and pricing in an environment that is increasingly competitive and highly disruptive as interest rate increases begin. With experience in over 80 implementations, Nomis optimizes over $1 trillion in banking transactions annually and returns more than $300,000,000 to its customers every year.