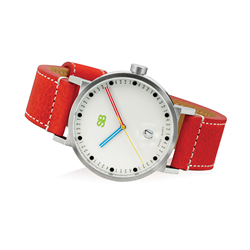 This new website is a beautiful showroom that showcases our designs wonderfully.
Las Vegas, Nevada (PRWEB) March 08, 2016
SB, a line of stainless steel, modern design watches is launching it's newly re-designed e-commerce website. The new website gives customers a more sophisticated and simple shopping experience, showcasing the exceptional design and quality of each timepiece.
The new website will feature the four SB watch collections in an all new format. The mens and ladies watches are 40mm and 36mm. They feature simple and solid color dials with either leather straps, stainless steel mesh bracelets or stainless steel link bracelets. You can also purchase these watches with or without a diamond bezel. Prices start at $275 for the SB mens and ladies watches.
The SB Select collection features original limited edition designs created by New York industrial artist, Fredi Brodmann. Fredi Brodmann was born in Vienna in 1956 and was originally a renowned cartoonist. Brodmann has been designing the SB watch collections in collaboration with owner Raphael Cohen. Together, their amazing vision has produced a fine and exciting line of wrist watches.
The most recent collection to be born from the minds of Brodmann and Cohen is The Metropolis collection, made with passion and attention to details. The case is made from 3 parts with an assortment of striking dials. Just added, is the newest Metropolis timepiece: Countdown, which features a completely glow-in-the-dark dial and rugged leather strap.
All SB watches are equipped with a stainless steel case, buckle and back as wells as a fine Swiss quartz movement. Each watch also is water-resistant to 165 feet, has a scratch-resistant sapphire crystal and carries a 2-year warranty.
To celebrate the launch of the new SB Watches website, SB is offering UPS 2nd Day shipping at no charge on all orders through March 14, 2016. SB is also offering a complimentary SB t-shirt with every watch purchase, while supplies last.
Company President Raphael Cohen recently remarked, "This new website is a beautiful showroom that showcases our designs wonderfully."
SB Watches are available by visiting http://www.sbwatches.com or by calling 800-360-2586 to purchase or to find a store near you.