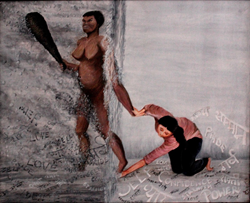 The power game today has been skewed to misrepresent women as meek, powerless creatures as opposed to the reality of strong women since pre-historic times
Cupertino, California (PRWEB) March 08, 2016
She is the primordial source of life on earth, the force that instills in man love and compassion. She is born with an extraordinary capacity to be fierce, loyal and selfless. And yet, centuries later, a woman, the epitome of strength in this world, is often denied the acknowledgement and applause her contributions command. On the occasion of International Women's Day, eco-feminist artist, Sujata Tibrewala, wants us to shift our focus on women who have shown amazing grit and tenacity and achieved what no ordinary soul can. While celebrating the spirit of these women on canvas and telling their stories, the artist also aims to ensure that the occasion of Women's Day is not reduced to tokenism. The artist presents an engaging concept to ensure young girls aspire to be like their women icons. The artist has come up with an interactive virtual reality game (teevragaming.com) where one can immerse oneself in the spirit of their favorite women achievers by choosing a character and play to feel like a superwoman. The artist says, "The thrill of achieving success in the virtual space game while learning from Real women scientists, can be a great medium to instill passion to excel in real life too. And this is the thought behind this high-energy game."
The artist also celebrates womanhood in a powerful work titled 'Finding Strength.' Tibrewala reflects on a time in history, when women were the frontrunners in the societal cycle. Today, sadly that period is conveniently dismissed as 'primitive matriarchies.'
Through her thought provoking works, Tibrewala, revisits the ethos of feminism and urges that we recognize the strong but often undermined spirit of women across cultures and continents. She salutes the achievers who forgo of their limitations to do the exemplary, whose precious contributions deserve a more careful study and reverence. In a commissioned, acrylic on canvas work, the artist captures the beauty of Gayathri Devi (1919-2009), the Maharani consort of Jaipur, India who not only propagated women's rights at a time when women's liberalization in India was exceptionally important but also became the first royal to participate in democratic process. Another work, bestows laurels on Pam Reed, the legend who became the first person to finish a 300-mile run without sleep in 2005. It is these relentless souls according to the artist who represent the spirit of womanhood.
For Tibrewala, the issue of feminism is not just a series but forms a holistic essence that lies as the simmering core value behind all her works.
The artist believes that the day each woman realizes her inestimable contribution to the planet, there will be a revolution of positive feminism.
So, this Women's Day let us all try and applaud all the women we meet because within each of us is a power waiting to be explored.
About the artist:
Sujata Tibrewala, a self-taught artist come engineer remarkably embodies the indomitable spirit of human existence through her works. Her works center around the theme of eco-feminism. She has exhibited her artworks in some of the most reputed venues around the globe such as University of Illinois, Chicago, Raw San Jose, Parallax Art Fair London, the Regional Commission of Arts St Louis, Life Force Arts Chicago, Mindworks Gallery Chesterfield, St. Louis Artists' Guild, Chesterfield Arts, Art World Association, Women's Caucus for the Arts, MySLART and Lalit Kala Academy, Delhi.
She moved to the USA in 2010 from India and practices her art form at the Bay Area, CA, where she resides presently.