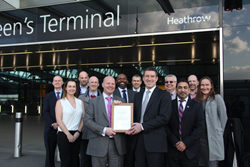 The team at Heathrow is clearly passionate about the airport and the quality of service it delivers
(PRWEB UK) 8 March 2016
Lloyd's Register (LR) has confirmed that Heathrow Airport Limited (HAL) has achieved certification to international asset management system standard ISO 55001, thereby demonstrating HAL's commitment to delivering value and boosting customer satisfaction levels through effective asset management. The certificate itself was presented to Steve Chambers, Heathrow's Engineering and Asset Management Director by Jamie Thompson representing LR during an award ceremony at London Heathrow on 24 February 2016.
The certification was carried out by Lloyd's Register Energy and LRQA. LRQA is the only certification body to hold a global scope of accreditation for ISO 55001:2014, (which replaces PAS 55) and is one of the first group of certification bodies to be awarded accreditation against the standard. Both LR Energy and LRQA are members of the Lloyd's Register group and hereafter collectively referred to as Lloyd's Register.
London Heathrow's asset base is large and spans a wide range of types including runways, terminals, transit systems, a mainline railway, power generation and distribution, water and pollution control, security systems, fuel systems and baggage systems.
This work builds on LR's work with London Heathrow which commenced back in 2014 with maturity assessments, designed to evaluate the efficiency of HAL's asset management arrangements. Lloyd's Register has wide experience of asset management good practice, having supported organisations across the world in the development of their systems across multiple sectors.
Demonstrating that a system is meeting or exceeding the requirements requires a good design for the management system, implemented well across the full range of assets and covering all lifecycle stages of the asset base. The LR approach samples the three dimensions of asset lifecycle stage, asset type and all aspects of ISO 55001. Reflecting on their certification to ISO 55001 Paul Weal, Head of Asset Management said, "This is a fantastic achievement across the airport that is a reflection on the level of professionalism and accountability towards our approach to asset management. It is by understanding why we do things, that we can influence the 'what' and the 'how' in terms of delivering value from our assets, for all our customers."
"The team at Heathrow is clearly passionate about the airport and the quality of service it delivers," said Chris Knowles, Global VP Asset Management Consulting at LR. "This is demonstrated by the way they have built on good practices across the airport at all levels to implement an Asset Management system which demonstrates effective risk based control and delivery of value from the asset base."