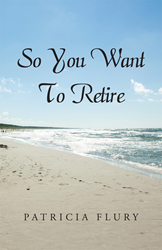 There are two parts to a successful retirement plan, and many agree money is part two. Part one is referred to as existential; it is all about you, your existence: what are you going to do with the rest of your life?
(PRWEB) August 02, 2016
So You Want to Retire is a must-read guide for retirees, people who are about to retire or contemplating retirement soon. It tackles the nonfinancial aspects of retirement, an often overlooked subject in retirement literature. It is also a good read for anyone who has a loved one struggling with the emotional impact of retirement. The book can help both the retiree and the people around him or her to understand life when "every day is Saturday."
The author aims to instill purpose, meaning, joy, and good health to retirees with practical advice and compassion culled from her years as a healthcare executive. Having served as the Chief Operating Officer of one of the country's largest public healthcare systems, Flury is a wellspring of firsthand insights on the social plight of numerous retirees. Her book is an important addition to the library of a company's HR department.
Flury starts with the practical advice that retirees should expect to live longer than they think. This insight sets the tone for her advice and practical tips, among others:

How to remain productive
How to stay active
How to feel and be useful
The upside of downsizing
Practical tips on using social security
Best (and worst) places for retirees
Healthcare tips
Dealing with depression
So You Want to Retire also reserves a whole section on the factors that can ruin retirement. These include: 1) providing support to adult children; 2) runaway debt; and 3) lack of understanding of inflation. Each of these factors is expounded with details why they can be deadly for retirees.
The book is, of course, best for readers who are yet to retire, as it is always better to plan ahead. For retirees, it is never too late to learn new things, especially if the book has plenty of practical advice on the social aspects of retirement.
Title: So You Want to Retire
Author: Patricia Flury
Genre: Nonfiction
ISBN: 978-1-4958-0938-5
eISBN: 978-1-4958-0938-5
Pages: 136
Publisher: Infinity Publishing