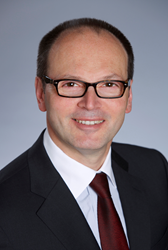 I believe StockViews will become the leading marketplace for high quality, independent investment research
London, UK (PRWEB UK) 9 March 2016
StockViews, the London-based equity research platform, has appointed Thomas Balk, the ex-head of Fidelity International, as Chairman. Balk has over 25 years experience in the global asset management industry, which includes 16 years at Fidelity. Prior to his responsibility as President of its international asset management activities, he held positions as President of Mutual Funds in Europe and President of the Japanese business.
Balk joins fellow industry insider Thomas Beevers, CEO and ex-fund manager at Newton Investment Management, and Sandeep Bathina, CTO and an expert in artificial intelligence. StockViews represents one of several Fintech companies that is using the disruptive power of the Internet combined with new technologies to shake up the traditional asset management industry.
Tom Beevers, CEO of StockViews said: "We're delighted to have such a high caliber executive heading up our board. He brings with him a deep understanding of our customer needs and will be instrumental in shaping our strategy. His endorsement is a huge validation of this new approach to equity research."
Balk has also taken a stake in the business as part of the recent capital raise. StockViews is the latest in an increasing number of successful London-based Fintech startups to complete fundraising this year. Other investors in StockViews include angel network Craigie Capital and the London Co Investment Fund.
Thomas Balk said: "The pace of technological change is forcing a shake up in the traditional investment research industry. As the hunt for alpha generation becomes ever more intense, fund managers will need to adopt new technologies to stay ahead of peers. Sell-side research has long had a poor reputation for generating results, and I believe StockViews will become the leading marketplace for high quality, independent investment research."
About StockViews
StockViews is an online equity research platform that connects professional investors with a network of independent analysts. StockViews was founded by Tom Beevers, an ex fund manager who was frustrated with the conflicts of interest and lack of transparency on the Sell Side. Sandeep Bathina, his co-founder is an expert in machine learning. By adopting best practice from modern marketplace models, StockViews aims to change the way sell side research is produced and consumed.