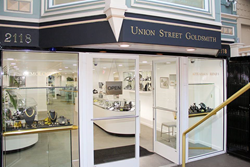 San Francisco, CA (PRWEB) March 08, 2016
Union Street Goldsmith celebrates its 40 years of business in the San Francisco, Calif. Bay Area. For these past four decades, Union Street Goldsmith has been the shop offering creative and new jewelry designs for those shopping around for the perfect accessory. The versatile selection paired with a friendly and knowledgeable staff is what sets this shop apart from the rest in the Bay Area.
Union Street Goldsmith is staffed with six GIA Gemologists, all of whom are welcoming and unpretentious. Get the necessary knowledge, facts and insight about the pieces for sale in order to make the shopping experience and decision that much easier and enjoyable. Known for amazing jewelry and designs, Union Street Goldsmith is the go-to jeweler for unique designs and settings for all kinds of tastes, styles and occasions.
Union Street Goldsmith offers fine-colored gemstones, unique engagement and wedding rings, and so much more. For these special occasions and many more, visit Union Street Goldsmith at their newest location: 2118 Union St. in San Francisco, Calif. Hours of operation are 11 a.m. to 5:30 p.m. Tuesday through Saturday and noon to 5 p.m. on Sunday. For more information about the shop and their offerings, call the staff at 415-776-8048 or email staff(at)unionstreetgoldsmith(dot)com.
About Union Street Goldsmith:
Union Street Goldsmith has been a San Francisco landmark for 40 years, offering excellent quality and creative jewelry. This special shop with its friendly staff is welcoming and unpretentious. The Union St. staff consists of six GIA gemologists, who are able to help shoppers in a variety of ways when it comes to gems and jewelry. Union Street Goldsmith is known for amazing jewelry designs, fine colored gemstones, and unique engagement and wedding rings. An excellent sense of style and fashion gives Union Street the ability to offer valuable guidance to clients in their jewelry selection, helping each one to create an overall special look within their collection.