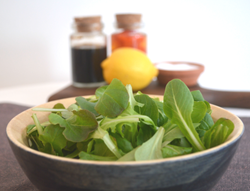 "The flavor is pure and unadulterated—it's a major breakthrough from a culinary perspective," said Chef Anthony Moraes.
Newark, New Jersey (PRWEB) March 08, 2016
AeroFarms, an indoor, aeroponic farm transforming agriculture as we know it, has grown more than 250 varieties of leafy greens and herbs with unparalleled consistency and flavor, selling to a wide range of customers including chefs and restaurants.
Based in Newark, NJ, AeroFarms serves the NY metro area, using its own unique aeroponic growing system to give leafy greens the perfect environment for uniform and predictable growth. Then they carefully manage that environment, from a proprietary nutrient mist to custom-designed LED lighting, to elevate the flavor and texture of each variety with pinpoint accuracy. Each AeroFarms harvest is monitored with 30,000 data points around the clock to ensure that every aspect of the growing process goes according to plan. Not only can AeroFarms grow custom varieties and make custom mixes for any chef's palate, each variety can be fine-tuned to meet the chef's preferences and requirements.
Plus, AeroFarms uses zero pesticides and 100% non-gmo seeds - mitigating two top concerns of consumers today. Because of its indoor, aeroponic growing method, AeroFarms is able to offer:

Year-Round Availability
Consistent Pricing
Longer Shelf Life
Less Shrink
Unparalleled Safety
No Weather Issues
AeroFarms most popular varieties are a seriously spicy arugula, a baby kale that is tender and sweet, and ruby streaks mustard greens that can be used almost like a seasoning because they pack so much punch.
"We are excited to be able to offer peak flavor all year round, celebrating a wide range of different varieties, and the response from top chefs has been fantastic," said Marc Oshima, co-founder and Chief Marketing Officer for AeroFarms.
"The flavor is pure and unadulterated—it's a major breakthrough from a culinary perspective," said Chef Anthony Moraes, a New York chef known for his healthy cuisine and former sous chef at Eleven Madison Park.
To find out what AeroFarms can do for your menu, please email sales(at)AeroFarms(dot)com.
About AeroFarms:
Founded in 2004, AeroFarms® is on a mission to fundamentally transform agriculture by building, owning, and operating indoor, vertical farms that grow flavorful, safe, healthy food in a sustainable and socially responsible way. AeroFarms patented growing systems make year-round harvests with peak flavor possible while disrupting the traditional distribution channels that lead to massive carbon emissions and food waste. A leader in the circular economy movement, AeroFarms grows with 95% less water than traditional farming and was the first agriculture company to be selected for the Ellen MacArthur Foundation Circular Economy 100.