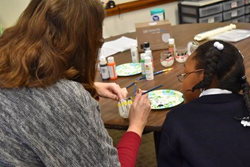 "When you educate a girl, you change the world." Oprah Winfrey
Benton Harbor, MI (PRWEB) March 09, 2016
Michigan's only all-girls middle school, the Benton Harbor Girls Academy, announced the launch of its $1 million capital development and endowment campaign at an event last night.
Dr. Patricia Ann Quattrin, founder and executive director of the Benton Harbor Girls Association for Learning & Self-esteem (BHGALS), the 501 (c)(3) corporation under which the Benton Harbor Girls Academy (BHGA) exists, said the campaign was necessitated by the expiration of the Academy's lease later this year. BHGALS is dedicated to enhancing the educational opportunities for high risk middle school girls in grades four through eight. Its goal is to expand academic and life experiences to give students the tools needed to succeed in school and in life. The Academy follows a non-graded concept with each classroom serving a maximum of 15 girls.
BHGA is currently renting a small space in the parish building of St. John Church. The new campus will be created on seven parcels of land BHGALS owns in Benton Harbor. Modular office buildings donated by AEP/Cook Nuclear Plant will be arranged to create 10,000 square feet of spacious classrooms, a library, kitchen, and other school functions that will allow the Academy to open its program to many more girls. Half of the $1 million dollar campaign goal will be used for site preparation, building assembly and equipment, and landscaping, while the remainder will create an endowment fund to ensure the success and longevity of Academy operations. At present, Sponsors pay the $7,000 per student annual tuition, while grants and donations assist with operations, field trips and the Girls Discover summer program.
Dr. Quattrin founded BHGA in 2010 as the State of Michigan's only private, nondenominational faith-based school exclusively for girls. She chose to focus on middle-school girls because it is a pivotal developmental period. "Around the age of 11, many girls start to turn away from math, science, and even learning itself," Quattrin noted. "They often silence themselves, losing their confidence, self-esteem, and self-worth."
She selected her hometown of Benton Harbor because the city is one of Michigan's most economically challenged communities. High rates of poverty, teenage pregnancy, drug and alcohol abuse, and low educational achievement have contributed to the city's decline. BHGA hopes its girls can contribute to the betterment of the community, both through the education they receive and sharing their talents with others.
The curriculum and environment at BHGA support the four purposes of a person: spiritual, intellectual, social, and physical. Each girl receives an individualized education plan that helps her overcome challenges to achieve success. In addition to classroom studies, Late-Day Activities and the Girls Discover summer program incorporate appreciation for the arts, multicultural experiences, and community opportunities. Parents are empowered by monthly programming to connect them to local services that can improve their standard of living and allow them to complement their daughters' education.
For more information about the Academy, visit http://www.bentonharborgirlsacademy.org or call (269) 925-9922.