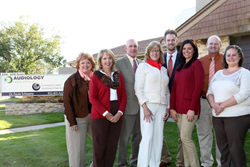 Edina, MN (PRWEB) March 08, 2016
Audiology Concepts is now offering the revolutionary audio system designed specifically for those with hearing loss, HyperSound Clear. HyperSound speakers beam high-quality sound—like a beam of light from a flashlight—to targeted listeners in the path of the beam.
A common and frustrating problem for those with hearing loss is the inability to follow TV programs or the struggle required to understand speech. The individual with hearing loss then has two options: either turn the volume up and disturb others or keep the volume low and miss out on important information.
HyperSound Clear is the solution to this problem, where the individual with hearing loss can turn up the volume without disturbing others. The beam of sound sent from the speakers is only audible to those within its path. Those outside its path hear the program at normal volumes while the individual within the path gets an enhanced signal.
HyperSound Clear creates enhanced sound quality, improved speech clarity, and an immersive sound experience without requiring the use of headphones. The system is also programmable, so a hearing professional can adjust the settings to match each patient's unique hearing loss. The system is simple to operate using intuitive controls and may be used with existing speakers and sound systems.
For more information on HyperSound Clear technology, visit the HyperSound Clear web page at Audiology Concepts.
About Audiology Concepts
Audiology Concepts is a full-service audiology practice located in Minnesota, with locations in Edina and Burnsville. The practice offers comprehensive hearing care services to help members of the local community hear better, live better, and reconnect with loved ones.
Contact
Paula L. Schwartz
Audiology Concepts
http://www.audiologyconcepts.com
952-831-4222