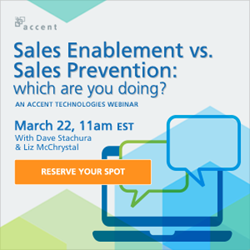 Melbourne, Florida (PRWEB) March 09, 2016
Accent Technologies, the leading global provider of sales enablement software and services, has announced an upcoming webinar on how to achieve sustainable success with sales enablement.
The webinar "Sales Enablement vs. Sales Prevention: Which are You Doing?" will cover how to spot and avoid the three most common sales enablement mistakes, plus a breakdown of the sales enablement "Value Equation" companies can use to deliver results fast.
Date: Tuesday, March 22nd
Time: 11:00 a.m. EST
Duration: 1 hour
Register: accent-technologies.com
The growing popularity of sales enablement has led many organizations to start new enablement initiatives. Their plan is usually delivering "the right content at the right time" to their sales teams. However, a few basic mistakes have actually turned the promise of sales enablement into sales prevention.
Join sales enablement experts Dave Stachura (Sr. Sales Enablement Consultant at Accent Technologies) and Liz McChrystal, Ph.D. (Director of Sales Enablement at Accent Technologies) as they present this can't-miss webinar that offers useful insight for anyone planning a sales enablement project or trying to increase the ROI of an existing initiative.
Sign up now at accent-technologies.com to view the webinar live or watch the recording later. For more information, please email marketing(at)accent-technologies(dot)com or call 321.242.7438.
About Accent
Accent Technologies is a SaaS company that's passionate about helping organizations improve sales execution and streamline productivity. Through sales enablement solutions, Accent gives companies a way to enhance the key revenue-generating activities that have the biggest impact on sales success—planning, preparing and engaging buyers. The global leader in sales enablement technology, Accent's products are used by companies in more than 100 countries around the globe.