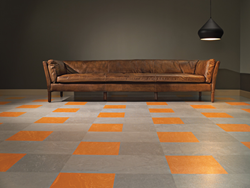 SOLON, Ohio (PRWEB) March 08, 2016
In the world of design, a color gradient (sometimes called a color ramp or color progression) refers to a range of position-dependent colors, producing smooth transitions. Color gradients are used for visual interest and to enliven expansive surfaces, as the human eye can detect even the most subtle shifts of color. Tarkett has created gradations for the floor plane by introducing three tones for each color grouping within Mesto Configurations' newly re-designed color palette. By using color progressions to reflect gradations in geology and the natural world, Mesto Configurations rubber flooring can help bring a feeling of nature into any space.
Evidence-based design studies have shown that nature-influenced designs are essential to healthcare and education environments. Nature-inspired elements within a space can incorporate variety, color, and form as a means of arousing creativity in students and promoting health in patients. A tonal study with a soft marbleized visual, Mesto Configurations rubber tiles can be used together in very subtle gradations to create the effect of layered textural shifts, which are found in geology and other natural formations.
Additionally, the sound absorption that Mesto Configurations rubber flooring provides can improve auditory environments by reducing noise from walking and rolling traffic, which according to evidence-based design can result in improved cognition, and more restful sleep within healing spaces. Mesto Configurations is also naturally slip-resistant, which is ideal for active spaces, as well as in hospitals where patient well-being is paramount.
The popular Mesto Configurations™ line introduces 12 new colors, each in three different shades and five different sizes of tiles and planks - 6"x6", 12"x12" or 24"x24" tiles and 6"x24" or 12"x24" planks.
Environmentally conscious and developed through closed-loop circular design, Mesto Configurations holds a Cradle to Cradle® Bronze Certification – Tarkett rubber flooring products are the only such products to do so. Mesto Configurations is also FloorScore® certified, with low-emitting adhesives contributing to good indoor air quality. It is also part of Tarkett's ReStart® reclamation & recycling program.
To learn more about the Mesto Configurations line, as well as the full Tarkett product portfolio, visit tarkettna.com.
###
About Tarkett
With net sales of 2.7 billion euros in 2015, Tarkett is a global leader in innovative and sustainable solutions for flooring and sports surfaces. Offering a wide range of products including vinyl, linoleum, carpet, rubber, wood & laminate, synthetic turf and athletic tracks, the Group serves customers in more than 100 countries worldwide. With 12,000 employees and 34 industrial sites, Tarkett sells 1.3 million square meters of flooring every day, for hospitals, schools, housing, hotels, offices, stores and sports fields. Committed to sustainable development, the Group has implemented an eco-innovation strategy and promotes circular economy. Tarkett is listed on Euronext Paris (compartment A, ticker TKTT, ISIN: FR0004188670). http://www.tarkett.com.