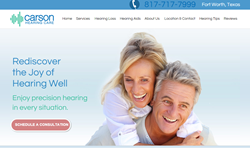 Fort Worth, TX (PRWEB) March 08, 2016
Choosing a pair of hearing aids can be a complex process, as patients with hearing loss have a number of options to choose from. But adding to the complexity is another group of products known as Personal Sound Amplification Products, or PSAPs. At first glance, PSAPs look like hearing aids, with the benefit of a lower price tag.
PSAPs, however, are not hearing aids and should not be used to treat hearing loss, according to Carson Hearing Care. In fact, according to the FDA, PSAPs are "intended to amplify environmental sound for non-hearing impaired consumers. They are not intended to compensate for hearing impairment."
While hearing aids are regulated medical devices used to treat hearing loss, PSAPs are meant for individuals with normal hearing that desire additional amplification, such as for bird watching, as one example.
Hearing aids differ from PSAPs in other important respects as well. For instance, hearing aids are programmable while PSAPs are generally not. This means hearing aids can amplify sound according to each patient's unique hearing loss, whereas PSAPs amplify all sound, including background noise.
PSAPs also lack several of the advanced features of hearing aids, such as speech enhancement, background noise reduction, and more. So while PSAPs are less expensive, they typically cost the patient more in the long run as hearing aids are eventually purchased due to dissatisfaction with PSAP performance.
For more information on the differences between PSAPs and hearing aids, visit 5 Reasons To Pick a Hearing Aid Over a PSAP.
About Carson Hearing Care
Carson Hearing Care is a full-service audiology practice located in Fort Worth, Texas. The practice offers comprehensive hearing care services to help members of the local community hear better, live better, and reconnect with loved ones.
Contact
Robin Carson, Au.D.
Carson Hearing Care
817-717-7999
http://www.carsonhearing.com