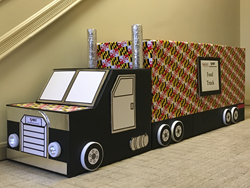 This initiative is a great example of what can happen when motivated individuals come together to make a difference in the community, and we are excited to be a part of it. (Maryland Food Bank President & CEO, Beth Martino)
ANNAPOLIS, Md. (PRWEB) March 08, 2016
Banks across Maryland are collecting food donations in support of the Maryland Food Bank as part of Maryland Bankers Association's (MBA) Council of Professional Women in Banking and Finance's 2016 Philanthropy Initiative, "Embrace Life, Nurture Success."
In recognition of Maryland Bankers Association's 120th anniversary, the Council has set a food collection goal of 120,000 pounds by April 30. If MBA succeeds in reaching its goal, it would likely be one of the largest food drives of the year for the Maryland Food Bank. Participating bank branches and organizations will host their own collections and special events to drive donations. With many expected to participate throughout the state, the following banks and organizations are participating thus far.

Bank of Ocean City
Calvin B. Taylor Bank
Capital One Bank
Chesapeake Bank of Maryland
Community Bank of the Chesapeake
First United Bank & Trust
Hamilton Bank
Homewood Federal Savings Bank
M&T Bank
Maryland Bankers Association
1880 Bank
"This year's philanthropy aligns with banks' ongoing commitment to improving the communities they serve across our state," said MBA President and CEO Kathleen Murphy. "Our member banks are well positioned to exceed our collection goal to nurture success by ending hunger."
According to the Maryland Food Bank, 1 in 8 Marylanders is food insecure, meaning they do not know where their next meal comes from—that is more than 757,000 people. The Maryland Food Bank currently distributes more than 120,000 meals per day and nearly 44 million meals annually. The food items of most need include:
Breakfast (cereal, oatmeal, quick oats, granola/cereal bars)
Canned proteins (tuna, salmon, chicken, beans, peanut butter)
Canned vegetables (low sodium, no salt added)
Dairy (shelf-stable milk, evaporated milk, infant formula)
Fruits and juices (in light syrup or its own juices, fruit cocktail, applesauce, juice boxes)
Pasta and rice (brown and white rice, macaroni and cheese, pasta)
Soups and stew (low sodium, beef stew, chili, chicken noodle, vegetable, turkey and rice)
"We appreciate the Maryland Bankers Association's willingness to take on our mission and help collect food for the thousands of Marylanders who don't have regular access to nutritious meals," said Maryland Food Bank President & CEO Beth Martino. "This initiative is a great example of what can happen when motivated individuals come together to make a difference in the community, and we are excited to be a part of it."
The final results of the collective effort will be revealed at The Council's Annual Conference on May 5. The annual philanthropy initiative aligns with the Council's mission of giving back to the Maryland community through leadership and inspiration. Past initiatives supported Soles4Souls in 2014 by collecting 63,270 pairs of used shoes to help fight poverty, and the Girl Scouts of Maryland in 2015 by raising $13,137.83.
To learn more about the initiative and participating branches, visit MBA's website. Please direct all media inquiries and requests to Josie Hankey at 410-420-2001 or by email at Josie.Hankey(at)FallstonGroup(dot)com.
About Maryland Bankers Association
Founded in 1896, the Maryland Bankers Association (MBA) is the only Maryland-based trade group representing banks in the state. MBA's member banks employ more than 40,000 banking professionals and hold 99% of the FDIC insured deposits in Maryland in nearly 1,700 branch offices. MBA serves member banks and thrifts as a legislative and regulatory advocate at all levels of government, as the public relations voice for the industry, as a provider of professional education to members, and as a promoter of financial education to the community. Visit http://www.mdbankers.com for more information.
About the Maryland Food Bank
The Maryland Food Bank is a nonprofit hunger-relief organization, leading the movement to end hunger throughout Maryland. For more than 35 years, the Maryland Food Bank has partnered with communities across the state to distribute food to individuals and families in need. Through carefully-crafted programs, the food bank aims to meet the immediate needs of Marylanders while simultaneously working to find long term ways to reduce hunger statewide. Currently distributing more than 120,000 meals per day—nearly 44 million meals annually—the Maryland Food Bank will continue to expand its efforts until hunger ends. To learn more about the Maryland Food Bank, visit http://www.mdfoodbank.org.