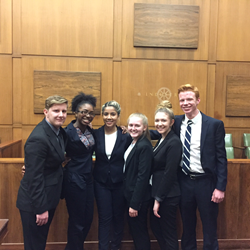 "Our team, thanks to the hard work of each member, had its best performance to date," said MHS senior Leila Asemani.
HERSHEY, Pa. (PRWEB) March 08, 2016
Milton Hershey School's® Mock Trial Team earned the school's first District Championship in the Statewide Mock Trial Competition, sponsored by the Pennsylvania Bar Association Young Lawyers Division. The team defeated defending state finalist Cumberland Valley High School on March 2 to capture the title.
Contributing to the team's victory, senior Leila Asemani won the "best advocate" award while junior Josi Daugherty was named "best witness."
"Our team, thanks to the hard work of each member, had its best performance to date," said Asemani. "Preparing for the competition can be demanding, but together we have remained dedicated to reaching our goals and this year have made Milton Hershey School Mock Trial Team history."
Each mock trial has a strong educational emphasis and provides a forum for students to learn about the law, the legal system and court procedures, as well as improve their basic skills such as listening, reasoning and the ability to think on their feet.
The six-member student teams argue both sides of a case in a courtroom before a judge. Students take on the roles of attorneys, witnesses, plaintiffs and defendants, with lawyers and community leaders serving as jurors. These juries decide the winner in each trial based on the presentation of the case and the team's ability to follow court rules.
More than 350 teams from across the state compete in the mock trial competition.
The Milton Hershey School team will advance to the Regional Semifinals on March 9 at the Lancaster County Courthouse of Common Pleas. Milton Hershey School's Defense Team will take on Spring Grove School District's Plaintiff Team.
Members of the Mock Trial Team participate in the Law, Public Safety & Security pathway of the award-winning MHS Career/Technical Education (CTE) program. The CTE program pushes students to explore career options and then accelerates their growth by giving them hands-on instruction with the ability to work in their chosen career path. Students are able to choose from 11 different career pathways to better prepare them for future success.
More information about MHS and its Career/Technical program can be found at mhskids.org.
ABOUT MILTON HERSHEY SCHOOL
Milton Hershey School® is one of the world's best private schools, offering a top-notch education and positive home life to children in pre-kindergarten through 12th grade from families of lower income at no charge.