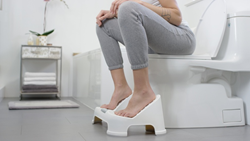 The feedback we have received so far serves as a strong validation and shows there's high demand for people who want to live a healthier lifestyle and try a natural squatting position
Sunnyvale, CA (PRWEB) March 08, 2016
Turbo, the toilet footstool for squatting and holistic foot massage, has surpassed its $35,000 crowdfunding goal on Kickstarter with just under 500 backers.
TURBO is placed directly in front of the toilet for user's to position their feet and lean slightly forward.
This posture mimics squatting, long regarded as beneficial for colon health in eastern cultures. This position aligns the colon for a clean and efficient bowel movement, as opposed to the bent colon position created by traditional western toilets.
"We'd like to thank all of our backers for their support throughout the campaign," said TURBO creator Tikeswar Naik, co-founder and leader of NadiaLabs. "The feedback we have received so far serves as a strong validation and shows there's high demand for people who want to live a healthier lifestyle and try a natural squatting position."
Sitting completely upright on our modern toilets creates a kink in the colon which makes it difficult for bowel movements and can lead to a number of health issues such as hemorrhoids, constipation, IBS and colon cancer.
TURBO has another key feature that adds a whole new dimension to the bathroom experience - the foot massage. The feet have pressure points for different parts of the body including the colon. Stimulating the feet can help with constipation and other colon issues, while contributing to relaxation and reducing stress.
TURBO is also the one and only footstool that can be used by family members of different heights. It's designed for adjustability at the touch of a toe. TURBO's unique patent pending style is both functional and attractive.
TURBO will offer continued accepting discounted pre-orders until the campaign's cessation on March 18, 2016. For more information on TURBO, and to pre-order, visit the Kickstarter campaign page.
About TURBO
Tikeswar Naik is co-founder and leader of NadiaLabs, where he and a dedicated team of professionals with backgrounds in technology, design and wellness provide products that integrate seamlessly in our life to help our wellbeing.