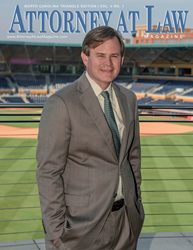 (PRWEB) March 09, 2016
Attorney at Law Magazine, North Carolina Triangle edition, recently selected James S. Farrin as attorney of the month in the February issue.
If you live in Durham or the surrounding area, you've undoubtedly seen the "We Mean Business" commercials for the Law Offices of James Scott Farrin. Did you ever wonder who's behind the business of "We Mean Business"?
Bob Friedman, publisher of Attorney at Law Magazine, North Carolina Triangle edition, wondered for some time. The publisher was so intrigued by the business model of Farrin's law firm, he personally interviewed Farrin and subsequently featured him as attorney of the month in the February issue.
Friedman recalled, "This is one of my favorite stories. James was very open and honest and gave our readers a rare insight into his approach to the legal profession and his life. With the huge sign overlooking the Durham Bulls Athletic Park, I expected an equally sized ego. James is anything but."
The cover story, "The Audacity of Ambition," recounts Farrin's journey from a two-person personal injury law practice to founder and president of the Law Offices of James Scott Farrin – one of the largest personal injury law firms in North Carolina.
How did he get from A to B?
According to the article, Farrin recalled a transformative meeting with a client after a settlement early in his career as a plaintiff's lawyer. "I could see what this meant to my client. It was amazing. The light in his eyes. The smile on his face. It moved me. I remember thinking, aha, I have found an area of law that gives me a chance to connect with people and make a real difference in their lives. I knew then that I had found meaning in my career."
Lawyer by trade and also a businessman at heart, this epiphany envisioned running a law firm like a business – focusing on customer service, marketing, and improving the non-lawyering parts of legal service, while still striving to provide excellent representation. It just seemed like practical business sense.
The article offers a glance inside the journey of the firm's president and namesake – a journey that was wrought with interesting (sometimes harrowing) twists and turns, bumps in the road, a bit of luck of being in the right places at the right times, and hard work and perseverance.
It's a story that illuminates a reluctant childhood globetrotter who grew into a lawyer and businessman who wanted to help people, and a family man who merely wanted to stay rooted in one place to raise a family.
About The Law Offices of James Scott Farrin
The Law Offices of James Scott Farrin is headquartered in the American Tobacco Historic District, adjacent to the Durham Bulls Athletic Park, in Durham, North Carolina, with 13 additional offices statewide in Charlotte, Fayetteville, Greensboro, Greenville, Goldsboro, Henderson, New Bern, Raleigh, Roanoke Rapids, Rocky Mount, Sanford, Wilson, and Winston-Salem. The firm's 38 attorneys focus on the following practice areas: Personal Injury, Workers' Compensation, Social Security Disability, Eminent Domain, Intellectual Property, Civil Rights, Mass Torts, and Products Liability. Five of the attorneys are North Carolina Board Certified Specialists in Workers' Compensation Law and one is a North Carolina Board Certified Specialist in Social Security Disability Law. The Law Offices of James Scott Farrin is involved in the community, including sponsorship of local philanthropic organizations and an active employee matching donation program.
Contact Information:
David Chamberlin
280 S. Mangum Street, Suite 400
Durham, NC 27701
866-900-7078
http://www.farrin.com