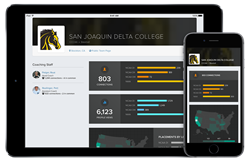 "Several of my players have started getting recruited from college coaches, and it has only been a few weeks." - Coach Samy Mack, East Central High School
Los Angeles, California (PRWEB) March 09, 2016
Shortly after launching volleyball, its first women's sport, FieldLevel has added two more networks in women's basketball and softball. Over 3,000 college and high school teams, from all 50 states, have already joined.
FieldLevel is the Official Recruiting Partner of the Positive Coaching Alliance and was one of the late-stage companies in the Dodgers Accelerator. With the addition of women's basketball and softball, FieldLevel has now released its proprietary social network in eight sports, with more to follow.
"We've long anticipated expanding into a variety of women's sports, as thousands of coaches and athletes have expressed interest through the years. When we launched women's volleyball, it really took off and was our fastest growing sport to date. So far, women's basketball and softball are growing even faster. We're very excited about the impact that FieldLevel will have on women's sports for many years to come," said FieldLevel Cofounder and CEO, Brenton Sullivan.
FieldLevel is a social network that brings college coaches, high school coaches, and high school athletes together in a private, protected community. Coaches have the unique ability to discuss prospects and seamlessly exchange all pertinent information on players. Meanwhile, FieldLevel turnkeys the recruiting process for high school athletes, helping them aggregate all essential information, including academic transcripts, highlight videos, and statistics. It is used by over 32,000 college and high school teams and has helped facilitate over 19,000 college commitments since 2013.
FieldLevel has already benefited coaches and athletes in women's basketball and softball. Samy Mack, a high school basketball coach in Oklahoma, said "A former player myself, I have been coaching basketball for approximately 30 years. In 2015, USA Today recognized our East Central program as one of the top in the sport. The majority of my girls have the opportunity to go to college whether it is at a Division I, II, III, NAIA or junior college. However, there is so much time and effort that goes into recruiting and getting players noticed by college coaches, and I can get very overwhelmed. Furthermore, it's important for my girls to get playing opportunities beyond their own backyard."
Mack continued, "When FieldLevel was opened up to women's basketball, I joined immediately, and it has already been very beneficial for my girls. Several of my players have started getting recruited from college coaches, and it has only been a few weeks. I can only imagine how many more colleges will make contact with my girls. FieldLevel makes things so much easier for a high school coach and more importantly for the college coaches."