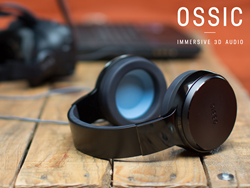 San Diego, CA (PRWEB) March 08, 2016
Last weekend, San Diego based OSSIC Corporation reached a major milestone with their Kickstarter project, the OSSIC X self-calibrating 3D audio headphones, successfully raising over $1M within 12 days of launch. This comes after they exceeded the initial funding target in only 2.5 hours.
In addition to their recent funding success, OSSIC also announced that they will be joining the Abbey Road Red incubator program for music technology. OSSIC is excited to work with the legendary London studio to help shape the future of audio.
OSSIC's mission is the ultimate 3D listening experience. They produce hardware and software solutions that focus on the individual listener's anatomy and location within the sound-field to accurately play sounds anywhere in space. This allows the listener to transport themselves into a virtual world through sound, or bring sound to life wherever they are with full 3D, high spatial resolution audio, including height.
Jason Riggs, CEO of OSSIC: "There is a large gap between what is possible with 3D audio and what is available to consumers. We are excited to bring the OSSIC X to listeners, and to let them hear what they have been missing, the 10x audio experience."
The OSSIC X is an auto-calibrating headphone that brings new life to existing collections of music and movies, while enabling the future of audio for virtual and augmented reality. By pairing advanced 3D audio algorithms with head-tracking and individual anatomy calibration, OSSIC X headphones deliver incredibly accurate and immersive 3D sound.
About OSSIC:
OSSIC was founded in 2014 by experienced audio product designers and scientists with the mission to make the highest quality 3D audio accessible for everyone. Their initial product, the OSSIC X headphone, creates the next level of accuracy and immersion for 3D audio, perfect for virtual reality, augmented reality, gaming, movies, and music. Located in San Diego, California, they are proud to be an EvoNexus company.
More information can be found at: http://www.ossic.com
Full press page: press.ossic.com/exclusive-launch-page
OSSIC Media Contacts:
Brand Communication
Drew Downie / Drew(at)ossic(dot)com / 513-910-6296
Press Contact
Kristen Long / kristen(at)ossic(dot)com
About Abbey Road Red:
Building on a legacy of more than 80 years of groundbreaking technological advances at Abbey Road Studios, Abbey Road Red is an open innovation department designed to support the endeavors of the brightest music tech entrepreneurs, researchers and developers. It is a unique music tech start-up incubation program – the only one of its kind in Europe – to support the most promising music tech startups, as well as to collaborate with the brightest minds in academic research. The white lab coats are long gone at Abbey Road but the spirit of adventure is still as present as ever.
More information can be found at: http://www.abbeyroad.com/abbeyroadred
Abbey Road Red Media Contacts:
Debra Geddes / Press Contact / debra(at)greatnorthernpr(dot)co(dot)uk