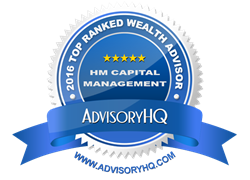 We are proud to receive this recognition as it underscores our culture where our clients come first.
Clayton, MO (PRWEB) March 09, 2016
HM Capital Management has been named one of the Top Financial Advisors in St. Louis by Advisor HQ, a financial review and news website. HM Capital Management is being celebrated as a fee-only RIA staffed by a team of experienced professionals with a range of industry certifications.
According to Advisor HQ, "the following facts influenced the rating of HM Capital Management as a top 2016 wealth management firm in St. Louis."

The company is an independent financial advisor that acts in a wholly autonomous capacity when it comes to providing advice or making recommendations to its clients. Since HM Capital Management does not sell any products to clients, they are free to recommend products and services, from a wide range of available options, that best fit the needs of their clients.
The firm is compensated directly by its clients, making the relationship extremely transparent and free from any conflicts of interest.
HM Capital Management is staffed by a team of highly qualified and experienced professionals.
"We are proud to receive this recognition as it underscores our culture where our clients come first" said Matt Kopsky, President of HM Capital Management. Matt Kopsky went on to say, "At HM Capital Management our team of professionals serves as legal fiduciaries and we are dedicated to being proactive problem solvers."